MAGNETO OR BATTERY?
25th March 1915
Page 8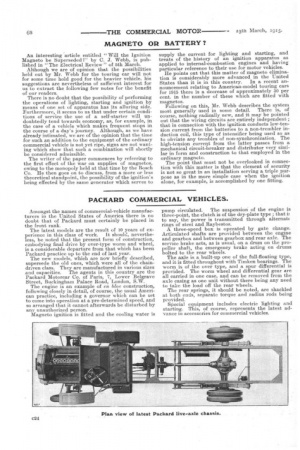 Page 8, 25th March 1915 —
MAGNETO OR BATTERY?
Close
An interesting 'article entitled " Will the Ignition Magneto be Superseded'?" by C. J. Webb, is published in "The Electrical Review" of 5th March.
Although we are of opinion that the possibilities held out by Mr. Webb for the touring car will not for some time hold good for the heavier vehicle, his suggestions are nevertheless of sufficient interest for us to extract the following few notes for the benefit of our readers.
There is no doubt that the possibility of performing the operations of lighting, starting and ignition by means of one set of apparatus has its alluring side. Furthermore, it seems to us that under certain conditions of service the use of a self-starter will undoubtedly tend towards economy, as, for example, in the case of a vehicle which makes frequent stops in the course of a day's journey. Although, as we have already intimated, we are of the opinion that the time for such an addition to the equipment of the ordinary commercial vehicle is not yet ripe, signs are not wanting which show that such a combination will shortly be considered admissible.
The writer of the paper commences by referring to the first effect of the war on supplies of magnetos, owing to the monopoly held at that time by the Bosch Co. He then goes on to discuss, from a more or less theoretical standpoint, the possibility of the ignition's being effected by the same generator which serves to supply the current for lighting and starting, and treats of the history of an ignition apparatus as applied to internal-combustion engines and having particular reference to their use for motor vehicles.
He points out that this matter of magneto elimination is considerably more advanced in the United States than it is in this country. In a recent announcement relating to American-model touring cars for 1915 there is a decrease of approximately 30 per cent, in the number of these which are fitted with magnetos. Following on this, Mr. Webb describes the system most generally used in some detail. There is, of course, nothing radically new, and it may be pointed out that the wiring circuits are entirely independent ; that in connection with the ignition conducts low-tension current from the batteries to a non-trembler induction coil, this type of intensifier being used so as to obviate any troubles of non-synchronization. The high-tension current from the latter passes from a mechanical circuit-breaker and distributor very similar in form and construction to that employed in the ordinary magneto.
The point that must not be overlooked in connection with this matter is that the element of security is not so great in an installation serving a triple purpose as in the more simple case when the ignition alone, for example, is accomplished by one fitting.