Number j ( Three.
25th March 1915
Page 17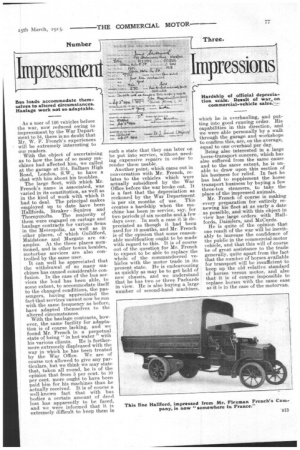 Page 17, 25th March 1915 —
Number j ( Three.
Close
Impressmet pressions
Bus loads accommodate themselves to altered circumstances. Haulage work not so adaptable. Hardship of official depreciation scale. Result of war,. on commercial-vehicle sales:
As a user of 126 vehicles before the war, now reduced owing to impressment by the War Department to 54, there is no doubt that Mr. W. F. French's experiences , will be extremely interesting to our readers.
With the object of ascertaining as to how the loss of so many machines had affected him, we called at the garage at 314, Balham High Road, London, S.W., to have a chat with him about his troubles.
The large fleet, with :which Mr. French's name is associated, was varied in its constitution, as well as in the kind of work with which it had to deal. The principal makes employed up to date have been HaWords, Straker Squires and Thornycrofts. The majority of them were engaged on cartage and haulage contracts for various firms in the Metropolis, as well as in other places, of which Guildford, Maidstone and Margate are examples. At the three places mentioned, and in other towns besides, motorbus services are also controlled by the same user. It can well be appreciated that the withdrawal of so many machines has caused considerable confusion. In the case of the bus services the load has been able, to some extent, to accommodate itself to the changed conditions, the passengers, having appreciated the fact that services cannot now be run with the same frequency as before, have adapted themselves to the altered circumstances.
With the haulage contracts, however, the same facility for adaptation is of course lacking, and we found Mr. French in a perpetual state of being " in hot water " with his various clients. He is furthermore extremely displeased with the way in which he has been treated by the War Office. We are of course not allowed to give any particulars, but we think we may state that, taken all round, he is of the opinion that from 5 per cent. to 10 per cent, more ought to have been paid him for his machines than he actually received. It is of course a well-known fact that with bus bodies a certain amount of dead loss has apparently to be faced, and we were informed that it is extremely difficult to keep them in such a state that they can later on be put into service, without needing expensive repairs in order to render them usable.
Another point, which came out in conversation with Mr. French, relates to the vehicles which were actually subsidized by the War Office before the war broke out. It is a fact that the depreciation as reckoned by the War Department is per six months of use. This creates a hardship when the machine has been in service, say, for two periods pf six months and_a few days over. In such a case it is depreciated as though it had been used for 18 months, and Mr. French is of the opinion that some reasonable modification ought to be made with regard to this. It is of course out of the question for Mr_ French to expect to be able to replace the whole of the commandeered vehicles with the motor trade in its present state. He is endeavouring as quickly as may be to get hold of new chassis, and we understand that he has two or three Packards in view. He is also buying a large number of second-hand machines, which he is overhauling, and putting into good running order. His capabilities in this direction, and we were able personally by a walk through the garage and workshops to confirin this, are, on the average, equal to one overhaul per day.
Being also interested in a large horse-transport concern, which has also suffered from the same cause and to the same extent, he is unable to draw upon this section of his business for relief. In fact he has had to supplement the horse transport business by buying a few three-ton steamers, to take the place of the impressed animals. Mr. French of course is making every preparation for entirely renewing his fleet at as early a date as possible, and with this object in view has large orders with Hallfords, Daimlers, and McCurds.
He is quite of the opinion that one result of the war will be inevitably to increase the confidence of the public in the commercial-motor vehicle, and that this will of course be of great assistance to the trade generally, quite apart from the fact that the number of horses available for transport will be insufficient to keep up the old relative standard of horses versus motor, and also that it is of course impossible to replace horses with the same ease as it is in the case of the motorvan.