Out and Home.
25th March 1915
Page 12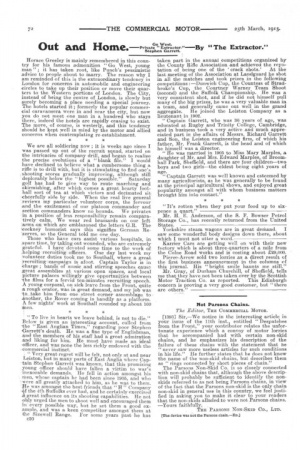 Page 12, 25th March 1915 —
Out and Home.
Close
Private `' E.xtraetor."—By "The Extractor." Stephen Garrett.
Horace Greeley is mainly remembered in this country for his famous admonition "Go West, young man " ; it has taken root, like Punch's pessimistic advice to people about to marry. The reason why I am reminded of this is the extraordinary tendency in London for concerns in automobile and engineering circles to take up their position or move their quarters to the Western portions of London. The City, instead of being the centre of London, is slowly but surely becoming a place needing a special journey. The hotels started it ; formerly the popular commercial caravansera were in and near the city, but now you do not meet one man in is hundred who stays there, indeed the hotels are rapidly ceasing to exist. The move, of course, is westerly, and this tendency should be kept well in mind by the motor and allied concerns when contemplating re-establishment.
We are all soldiering now ; it is weeks ago since I was passed up out of the recruit squad, started on the intricacies of company drill, and began to realize the precise evohitions of a "blank file." I would have declined to believe what a cumbersome thing a rifle is to drill with, but it is stimulating to find one's . shooting scores gradually improving, although still deplorably below the " highest possible." Saturday golf has had to give way to route marching and skirmishing, after which comes a great hearty football sort of tea at which victors and decimated sit 'cheerfully side by side. When the real live general reviews my particular volunteer corps, the fervour and the excitement of our platoon commander and section commanders know no bounds. We privates in a position of less responsibility remain comparatively calm. We wear red brassards on our left .arms on which are emblazoned the letters G.R. The 'cockney humorist says this signifies German Re'serves, so the General told me one day.
• Those who have cars assist various hospitals, in .spare time, by taking out wounded, who are extremely grateful. I have devoted some time to the work of .helping recruiting. officers. One day last week my volunteer duties took me to Southall, where a great -recruiting campaign is afoot. Captain Taylor is in charge; bandS of music and stirring speeches cause kreat assemblies at various open spaces, and local picture palaces willingly give opportunities between -the films for a fervid teneninutes recruiting spoech. A young corporal, on sickleave fsom the Front, quite a rough orator, was in great demand, and my job was lo_take him from one street corner assemblage to another, the Rover coming in handily as a platform. A few nights' work at Southall rounded up about 160 *nen.
"To live in hearts we leave behind, is not to die." Below is given an interesting account, culled from -the "East Anglian Times," regarding poor Stephen -Garrett's death. He was a fine type of Englishman, and the members of his staff had a great admiration and liking for him. He must have made an ideal -officer, and was none the less richly endowed with the ,commercial instinct.
"Very great regret will be felt, not only at and near Leiston, but in many parts of East Anglia where Captain Stephen Garrett was known, that this promising Young officer should have fallen a vietim to war's • inexorable demands. He fell in action amongst his men, whose captain he had been since 1905, and who were all greatly attached to him, as he was to them. Ife was amongst the best friends that "H" Company -4.pf the 4th Suffolks ever had, and he certainly exercised A, great influence on its shooting capabilities. He not • ohly urged the men to shoot well and encouraged them in every possible way, but he set them a good example, and was a keen competitor amongst them at the Sizewell Range. For some years past he has c30 taken part in the annual competitions organized by the County Rifle Association and achieved the reputation of being one of the 'crack shots.' At the last meeting of the Association at Landguard he shot in. all the matches and took prizes in the following competitions :—Dunwich Cup, the Countess of Stradbroke's Cup, the Courtney Warner Team Shoot (second) and the Suffolk Championship. He was a very consistent shot, and if he did not himself pull many of the big prizes, he was a very valuable ma.n in a team, and generally came out well in the grand aggregate. He joined the Leiston Company as a lieutenant in 1902.
"Captain Garrett, who was 36 years of age, was educated at Rugby and Trinity College, Cambridge, and in business took a very active and much appreciated part in the affairs of Messrs. Richard Garrett and Son, the Leiston engineering firm, of which his father, Mr. Frank Garrett, is the head and of which he himself was a director.
"He was married in 1905 to Miss Mary Marples, daughter of Mr. and Mrs. Edward Marples of Broomhall Park, Sheffield, and there are four children—two boys and two girls—the eldest being eight years of age. " Captain Garrett was well known and esteemed by many agriculturists, as he was generally to be found at the principal agricultural shows, and enjoyed great popularity amongst all with whom business matters brought him into contact."
"It's rotten when they put your food up to six pence a quart." Mr. H. E. Anderson, of the S. F. Bowser Petrol Storage Co., has recently returned from the United States. Yorkshire steam wagons are in great dethand. I saw some wonderful body designs down there, about which I must not utter a word.
Karrier Cars are getting well on with their new factory which is about three-quarters of a mile from the Colne Road works and is costing about 229,000.
Pierce-Arrow sold two lorries as a direct result of the first business announcement in the columns of this journal. His "bright smile haunts me still." Mr. Gray, of Durham Churchill, of Sheffield, tells me that they have not been taken over by the Scottish Motor Traction Co. as reported. This Edinburgh concern is proving a. very good customer, but "there are others."
Not Parsons Chains.
The Editor, TEE COMMERCIAL MOTOR.
[1393] Sir,—We notice in the interesting article in your issue of the 11th inst., entitled " Despatches from the Front," your contributor relates the unfortunate experience which a convoy of motor lorries that he accompanied had with certain non-skid chains, and he emphasizes his description of the failure of these chains with the statement that he "never saw more useless articles for such conditions in his life." He further states that he does not know the name of the non-skid chains, but describes them as "rings connected by short pieces of chain." The Parsons Non-Skid Co. is so closely connected with non-skid chains that, although the above description will probably be sufficient to identify the nonskids referred to as not being Parsons chains in view of the fact that the Parsons non-skid is the only chain non-skid in general use in this country, we feel justified in asking you to make it clear to your readers that the non-skids alluded to were not Parsons chains. —Yours faithfully, THE PARSONS NON-SKID CO., LTD.
[The device was not the Parsons chain.—ED.]