The Supply Department.
25th March 1909
Page 23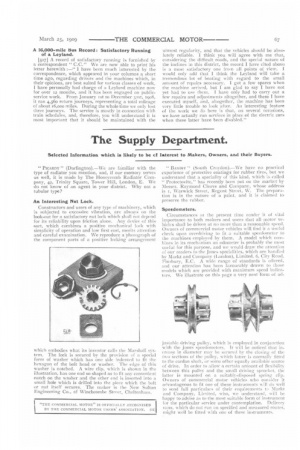 Page 23, 25th March 1909 —
The Supply Department.
Close
Selected Information which is likely to be of Iaterest to Makers, Owners, and their Buyers.
" PICARDY" (Darlington).—We are familiar with the type of radiator you mention, and, if our memory serves us well, it is made by The Honeycomb Radiator Company, 42, Trinity Square, Tower Hill, London, E. We do not know of an agent in your district. Why not a tubular type?
An Interesting Nut Lock.
Constructors and users of any type of machinery, which is subjected to excessive vibration, are always on the look-out for a satisfactory nut lock which shall not depend for its reliability upon friction alone. Any device of this sort, which combines a positive mechanical lock with simplicity of operation and low first cost, merits attention and careful examination. We reproduce a photograph of the component parts of a positive locking arrangement which embodies what its inventor calls the Marshall system. The lock is secured by the provision of a special form of washer which has one side indented to fit the hexagon of the bolt head or washer. The edge of this washer is notched. A wire clip, which is shown in the illustration, has one end so shaped as to fit any convenient .notch on the washer and the other end is inserted into a small hole which is drilled into the piece which the bolt or nut itself secures. The maker is the New Sultan Engineering Co., of Winchcombe Street, Cheltenham.
" BANDIT " (South Croydon).—We have no practical experience of protective coatings for rubber tires, but we understand that a speciality of this kind, which is called " Protectovite," has recently been put on the market by Messrs. Raymond Cleave and Company, whose address is r, Warwick Street, Regent Street, W. The preparrition is in the nature of a paint, and it is claimed to preserve the rubber.
Speedometers.
Circumstances at the present time render it of vital importance to both makers and users that all motor vehicles shall be driven at no more than a reasonable speed. Owners of commercial motor vehicles will find it a useful check upon overdriving to lit a suitable speedometer to the machines employed by them. A model which combines in its mechanism an odometer is probably the most useful for this purpose, and we would draw the attention uf our readers to the Jones specialities, which are handled by Nfarkt and Company (London), Limited, 6, City Road, Finsbury, E.C. A wide range of standards is offered, and our attention has been favourably drawn to those models which are provided with maximum speed indicators. We illustrate on this page a very neat form of ad
justable driving pulley, which is employed in conjunction with the Jones speedometers. It will be noticed that increase in diameter may he secured by the closing of the two sections of the pulley, which latter is normally fitted to the crtrdan shaft, or some other equally available source of drive. In order to allow a certain amount of flexibility between this pulley and the small driving sprocket, the latter is mounted on a suitably-disposed spring clip. Owners of commercial motor vehicles who consider it advantageous to fit one of these instruments will do well to send full particulars of their requirements to Markt and Company, Limited, who, we understand, will be happy to advise as to the most suitable form of instrument for the particular service under contemplation. Delivery vans, which do not run on specified and measured routes, might well be fitted with One of these instruments.