OUT& MOM
25th March 1909
Page 13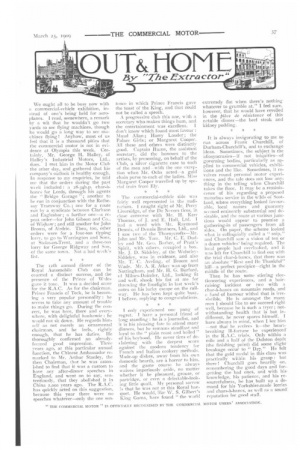 Page 13, 25th March 1909 —
OUT& MOM
Close
By "7,72e &Jaz-actor" We ought all to be busy now with a commercial-vehicle exhibition, instead of one's being held for aeroplanes. I read, somewhere, a remark by a wit that he wouldn't go two yards to see flying machines, though he would go a long way to see machines flying! Anyhow, most of us feel that it is a thousand pities that the commercial motor is not in evidence at Olympia this week. Cerolinly, Mr. George H. Halley, of iiaHey's Industrial Motors, Ltd., does. I met him in the Motor Club the other day, and gathered that his company's outlook is healthy enough. In response to my enquiries, he told me that the orders during the past -.rue]: included : a 28-34h.p. char-abanes for Leeds, through his agents the " Bridge Garage "; another to be run in conjunction with -the Rothesav Tramway Co.; one for a route run by a syndicate between Clarkson and Eaglesbar; a further one—a repeat order—for John Gibson and Co., of Wis,haw ; and still another for John Brown, of Airdrie. Then, too, other orders were for a four-ton tipping lorry, to go to Warrington and Sons, at Stoke-on-Trent, and a three-ton lorry for George Ridgway and Son, of the same town. Not a bad week's list, The 12th annual dinner of the Royal Automobile Club can be ccunted a distinct success, and the presence of the Prince of Wales gave it tone. It was a decided score for the R.A.C. As for the chairman, Prince Francis of 'Peck, he is becoming a very popular personality : he seems to take any amount of trouble to make things go, During the concert, he was here, there and everywhere, with delightful bonhomie : he would not sit down. He regards himself as not merely an ornamental chairman, and he feels, rightly enough, that he has duties. He thoroughly confirmed an alreadyformed good impression. Three years ago, at this particular annual function, the Chinese Ambassador remarked to Mr. Arthur Stanley, the then Chairman, that he was astonished to find that it was a custom to have any after-dinner speeches in England, and went on to say, sententiously, that they abolished it in China 2,000 years ago. The R.A.C. has quickly acted on this suggestion, because this year there were no speeches whatever—only the one sen.
tenet: in which Prince Francis gave the toast of the King, and that could not be called a speech. A progressive club this one, with a secretary who makes things hum, and the entertainment was excellent. I don't know which found most favour : aud Allan ; Harry Lauder ; the Palace Girls; or Margaret Cooper. All these and others were distinctly good. Captain Hume, the assistant secretary, did the honours to the artists, by presenting, on behalf of the Club, a silver cigarette case to each of the men and—with the one exception when Mr. Ochs acted—a gold chain purse to each of the ladies. Miss Margaret Cooper travelled up by special train from Ely_
The commercial-vehicle side was fairly well represented in the auditorium. I caught sight of Mr. Percy Liversidge, of the De Nevers tires, in close converse with Mr. H. Kerr Thomas, of J. and E. Hall, Ltd. had a word with Mr. Raymond Dennis, of Dennis Brothers, Ltd., and 1 saw two of the Thornycrofts—Mr. John and Mr. TOM. Mr: C. E. Dudley and Mr. Geo. Barber, of Pratt's Spirit, with others, occupied a box. Mr, J. D. Siddeley, of the WolseleySiddeley, was in evidence, and also Mr. T. C. Aveling, of Broom and Wade. Mr. A. R. Atkey was up from Nottingham, and Mr. H. G. Burford, of Milnes-Daimler, Ltd., looking fit and well, shook his fist at me for threwing the limelight in last week's notes on his lucky escape on the railway. He has been kept quite busy. I believe, replying to congratulations.
only experienced one pang of regret. I have a personal friend of long standing : he is a journalist, and it is his pleasing fate to attend many dinners, hut he remains steadfast and loyal to the " plain roast and boiled " of his boyhood. He never tires of declaiming with the deepest scorn against the modern tendency for French and Italian cookery methods. Made-up dishes, away from his own domestic hearth, are a horror to him, and the game course he always waives imperiously aside, no matter whether it be pheasant, grouse, or partridge, or even a delectable-looking little quail. My personal sorrow is that he was not at this Royal banquet. He would, like W. S. Gilbert's King Gama, have found " the world extremely flat when there's nothing whatever to grumble at." I feel sure, however, that he would have revelled in the piece de resistance of this notable dinner—the beef steak and kidney pudding.
It is always invigorating to me to run across Frank Churchill, of Durham-Churchill's, and to exchange ideas. Sometimes, the .subject is the idiosyncrasies—if not iniquities—of governing bodies, particularly as applied to commercial vehicles, exhibitions and the like. Sometimes, it revolves round personal motor experiences, and the tale does not lose anything in the telling when Churchill takes the floor. It may be a reminiscence of his regarding a proposed motorbus service in the wilds of Scotland, where everything looked favourable, local names and guaranty seemed eminently substantial and desirable, and the route at various junctions would appear to promise a gathering-in of passengers from all sides. On paper, the scheme looked what is colloquially called a " snip," and Churchill saw a vision of ten or a dozen vehicles' being required. The local people had overlooked, and it was left for Churchill to find out with the trial char-a-bancs, that there was an absolute "Rest and Be Thankful" hill—a perfect precipice—right in the middle of the route.
Then he has some stirring .elec-tioneering experiences, and a hairraising incident or two with a char-a-bancs on mountain roads, and a fund of humour withal that is irresistible. He is amongst the many men 1 should like to see succeed right yell, because he is such a tryer ; notwithstanding health that is but indifferent, he never spares himself. T have always in mind, when I lice him —not that he revives it—the heartbreaking ill-fortune he experienced' in the R.A.C_ trials. Only within a mile and a half of the Dalston depot (the finishing point) did some slight breakage occur to " D27." He felt that the gold modal in this class was practically within his grasp : but there! Churchill goes heartily on. remembering the good days and for-getting the bad one, and with his knowledge, his patience, and his resourcefulness, he has built up a demand for his Yorkshire-made lorries and chars-a-bancs, as well as a sound' reputation for good stuff.
Tags
People
:
H. Kerr Thomas
,
Frank Churchill
,
H. G. Burford
,
Gama
,
Francis
,
Geo
,
Raymond Dennis
,
A. R. Atkey
,
George H. Halley
,
Percy Liversidge
,
T. C. Aveling
,
Hume
,
Arthur Stanley
,
Harry Lauder
,
Margaret Cooper