Should Road Fines be Borne by Owner or Driver ?
25th March 1909
Page 1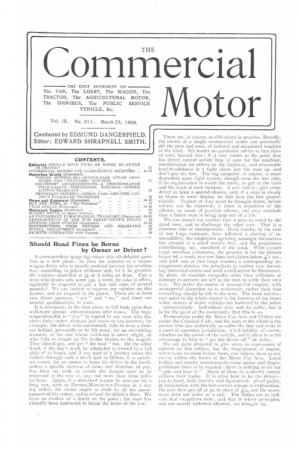 Page 1, 25th March 1909 —
Should Road Fines be Borne by Owner or Driver ?
Close
A correspondent (page 6.1) raises this oft-debated question in a new phase he cites the instance of a steamwagon driver who is heavily mulcted because his machine has--according to police evidence and, let it be granted, the verities—travelled at 51. or 6 miles an hour. Can a Man who draws only some 355. a week, he asks in effect, equitably be required to pay a fine and costs of several pounds? We are invited to express our opinion on this matter, and we respond in the plural. There are at least two direct answers, " yes " and " no," and there are several qualifications to each.
. It is necessary, in flie first place, to fall back upon that well-worn phrase --circumstances alter eases. The reply unquestionably is " yes," in regard to any man who disobeys finite orders without just cause or explanation ; for example, the driver who consistently fails to keep a lookout behind, personally or by his mate, for an overtaking tramcar, or the one whose tail-lamp is never alight, or who fails to couple up his trailer brakes to the wagon. They should pay, and get " the boot " too. On the other hand, if the day's work be scheduled lo extend to a full shift of 12 hours, and if any 'part of a journey takes the vehicle through such a black spot as Bolton, it is unfair, we assert, for an ov,mer to leave his driver in the lurch, unless a specific increase of time, and therefore of pay, has been set aside to enable the danger zone to be traversed at the rate of, say, not more than three miles an hour. Again, ir a steel-tired wagon he sent out for a long run, such as Preston-Manchester-Preston in a day ((a miles), the owner ought to abide by all the consequences of his orders, and to refund the driver's fines. We have no shadow of a doubt on the point : the man has virtually been instructed to break the letter of the law. There are, of course, modifications in practice. Broadly, the owner of a single commercial motor can personally sift the pros and cons, of isolated and occasional troubles of the kind. We tender no particular advice to that class of user, beyond this : if it ever comes to the point that his driver cannot satisfy him of care for the machine, consideration for others on the highway, and reasonable level-headedness in a tight place, pay the man up, and don't pay his fine. The big company, of course, is more dependent upon rigid system, though none the less able, if its organisation is worth the name, to get at the facts and the truth of each incident. A safe rule is : give every driver at least a second chance, and, if a man is clearly to blame in some degree, let him bear the fine proportionally. Neglect of duly must be brought home, before reform can be expected; if there is repetition of the offence, or cause of possible offence, one may conclude that a better man is being kept out of a job.
We can assure our readers that it pays to stand by the good men, and to discharge the other sort. That is a common rule of management. Good results, in the case of one Irirge company, hay i: followed a sharing of responsibility, the employees agreeing amongst themselves the amount of a small weekly levy, and the proprietors contributing, say, one-third of the total. With certain large omnibus companies, thc.! practice is for the drivers to pay, fid. a week, to cover fines and claims below .472 ms., and with one or two large carriers a corresponding arrangement obtains, the principals in neither case becoming interested unless and until a civil action be threatened. In short, ail roadside escapades other than collisions or darnage to persons are left to the men to settle their own way. We prefer the course of managerial enquiry, with managerial discretion as to settlement, rather than that everything should be left to the men. The most satisfactory point in the whole matter is the fewness of the times when owners of motor vehicles are bothered by the police
comparatively. Individuals may and do stiffer, but it is for the good of the community that this is so.
Prosecutions under the Motor Car Acts and Orders are under the Criminal Code, and the man at the wheel is the person who has technically to suffer the fine and costs in a court of summary jurisdiction. Civil liability, of course, attaches to the owner of the vehicle, and it often is to his advantage to help to " get his driver off " ab
We are quire prepared to give space to expressions of opinion on this sublect, but the magistrates, of course, when cases do come before them, can impose fines to any extent within the limits of the Motor Car Acts. Local feeling and enmity sometimes do cause undue and disproportionate fines to be exacted : there is nothing to do but " grin and bear it." Abuse of those in authority merely stiffens their hacks. It is often best to let the driver— cap in hand, both literally and figuratively plead guilty, in conjunction with the best correct excuse or explanation. He may then get off at ss. in place of L;s, and the movement does not suffer as a rule. The italics are to indicate that exceptions exist, and that is where principles, and not merely technical offences, are brought up.