This dairy electric has extra-load capacity
25th July 1975
Page 25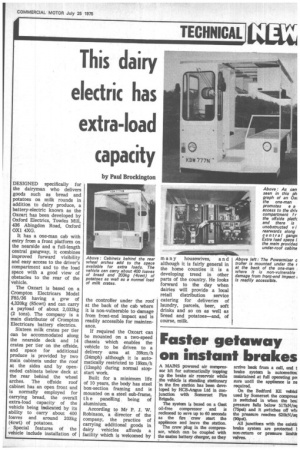 Page 25, 25th July 1975 —
This dairy electric has extra-load capacity
Close
by Paul Brockington
DESIGNED specifically for the dairyman who delivers goods such as bread and potatoes on milk rounds in addition to dairy produce, a battery-electric known as the Oxcart has been developed by Oxford Electrics, Towles Mill, 436 Abingdon Road, Oxford OX1 4XG.
It has a one-man cab with entry from a front platform on the nearside and a full-length central gangway, it combines improved forward visibility and easy access to the driver's compartment and to the load space with a good view of obstacles to the rear of the vehicle.
The Oxcart is based on a Crompton Electricars Model F83/36 having a gvw of 4,320kg (85cwt) and can carry a payload of about 2,032kg (2 tons). The company is a main distributor of Crompton Electricars battery electrics.
Sixteen milk crates per tier can be accommodated along the nearside deck and 14 crates per tier on the offside, and space for additional produce is provided by two main cabinets under the roof at the sides and by openended cabinets below deck at the rear behind the wheel arches. The offside roof cabinet has an open front and is normally employed for carrying bread, the overall extra-load capacity of the vehicle being indicated by its ability to carry about 400 loaves and around 203kg (4cwt) of potatoes.
Special features of the vehicle include installation of the controller under the roof at the back of the cab where it is non-vulnerable to damage from front-end impact and is readily accessible for maintenance.
If required the Oxcart can be mounted on a two-speed chassis which enables the vehicle to be driven to a delivery area at 39km/h (24mph) although it is automatically restricted to 19km/h (12mph) during normal stopstart work.
Built for a minimum life of 10 years, the body has steel box-section framing and is mounted on a steel sub-frame, t h e panelling being of aluminium.
According to Mr P. J. W. Robinson, a director of the company, the practice of carrying additional goods in dairy vehicles affords a facility which is welcomed by many housewives, and although it is fairly general in the home counties it is a developing trend in other parts of the country. He looks forward to the day when dairies will provide a local retail distribution service catering for deliveries of laundry, parcels, beer, soft drinks and so on as well as bread and potatoes—and, of course, milk.
Above left : The Powermiser c troller is mounted under the r at the back of the one-man . where it is non-vulnerable damage from front-end impact is readily accessible.