The CALM before the storm
25th July 1975
Page 19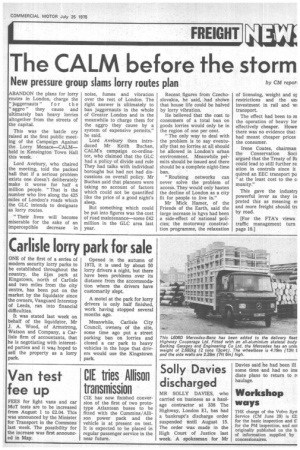 Page 19, 25th July 1975 —
The CALM before the storm
Close
New pressure group slams lorry routes plan
by CM repot',
ABANDON the plans for lorry routes in London, charge the "juggernauts " f or the " aggro " they cause and ultimately ban heavy lorries altogether from the streets of the capital.
This was the battle cry raised at the first public meeting of the Campaign Against the Lorry Menace—CALMheld in Kensington Town Hall this week.
Lord Avebury, who chaired the meeting, told the packed hall that if a serious problem exists one doesn't deliberately make it worse for half a million people. "That is the number who live along the 425 miles of London's roads which the GLC intends to designate as lorry routes.
"Their lives will become miserable for the sake of an imperceptible decrease in noise, fumes and vibration over the rest of London. The right answer is ultimately to ban juggernauts in the whole of Greater London and in the meanwhile to charge them for the aggro they cause by a system of expensive permits," he said.
Lord Avebury then introduced Mr Keith Buchan, CALM's campaign co-ordinator, who claimed that the GLC had a policy of divide and rule They had talks with individual boroughs but had not had discussions on overall policy. Mr Buchan said that planners were taking no account of factors which could not be quantified like the price of a good night's sleep.
But something which could be put into figures was the cost of road maintenance—some £42 million in the GLC area last year. Recent figures from Czechoslovakia, he said, had shdwn that house life could be halved by lorry vibration.
He believed that the cost to consumers of a total ban on goods lorries would only be in the region of one per cent.
"The only way to deal with the problem is to say eventually that no lorries at all should be allowed in London's urban environment. Meanwhile pe"rmits should be issued and there should be a complete night-time ban.
" Routeing networks can never solve the problem of access. They would only hasten the decline of London as a city fit for people to live in."
Mr Mick Hamer, of the Friends of the Earth, said the large increase in hgvs had been a side-effect of national policies; the motorway construction programme, the relaxation of licensing, weight and sr restrictions and the uni investment in rail and w transport.
The effect had been to m the operation of heavy lor effectively cheaper. Howe there was no evidence that had meant cheaper prices the consumer.
Irene Coates, chairman the Conservation Soct argued that the Treaty of Rc could lead to still further re ation in controls since it quired an EEC transport "at the least cost to the c, munity."
This gave the industry powerful lever as they in preted this as meaning m and more freight should trz by road.
[For the FTA's views traffic management turn page 18.]