An 'Accessory" Body for Pick-ups
25th July 1952
Page 49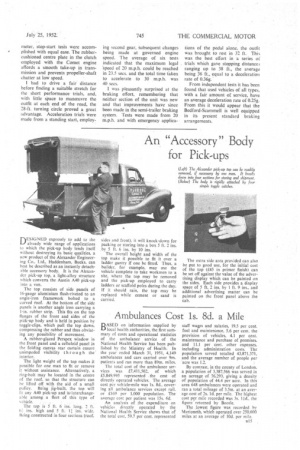 Page 49, 25th July 1952 —
An 'Accessory" Body for Pick-ups
Close
DESIGNED expressly to add to the already wide range of applications to which the pick-up body lends itself without destroying its basic qualities, a new product of the Alexander Engineering Co.. Ltd., Haddenham, Bucks, can best be described as an instantly detachable accessory body. It is the Alexander pick-up top, a light-alloy structure which converts the Austin A40 pick-up :nto a van.
The top consists of side panels of 16-gauge aluminium flush-riveted to an angle-iron framework bolted to a curved roof. At the bottom of the side panels is another angle iron carrying a 1-in, rubber strip. This fits on the top flanges of the front and sides of the pick-up body and is held in position by toggle-clips, which pull the top down, compressing the rubber and thus obviating any possibility of movement.
A rubber-glazed Perspex window in the front panel and a celluloid panel in the folding canvas rear curtain ensure unimpeded visibility th r ou gh the' interior.
The light weight of the top makes it possible for one man to fit or remove it without assistance. Alternatively, a ring-bolt may be located in the centre of the roof, so that the structure can he lifted off with the aid of a small pulley. Being jig-built. the top will fit any A40 pick-up and iscinterchangeable among a fleet of this type of vehicle. .
The top is 5 ft. 6 ins. long, 2 ft. 6:": ins, high and 5 ft. 1; ins. wide. Being constructed in four sections (roof,
sides and front), it will knock-down for packing or storing into a box 5 ft. 2 ins. by 5 ft. 6 ins. by 10 ins.
The overall height and width of the top make it possible to fit it over a ladder gantry if one be fitted. Thus, a builder, for example, may use the vehicle complete to take workmen to a site, where the top may be removed and the pick-up employed to carry ladders or scaffold poles during the day. If it should rain, the top may be replaced while cement or sand is carried.
The extra side area provided can also be put to good use, for the initial cost of the top (145 in primer finish) cart be set off against the value of the advertising display which can be painted on the sides. Each side provides a display space of 5 ft. 2 ins. by 1 ft. 9 ins., and additional advertising matter can be painted on the front panel above the cab.