Ambulances Cost is. 8d. a Mile
25th July 1952
Page 49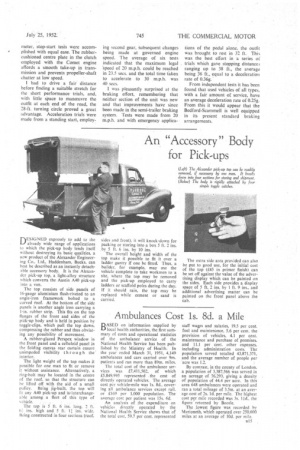 Page 49, 25th July 1952 —
Ambulances Cost is. 8d. a Mile
Close
BASED on information supplied by local health anthorities, the first summary of costs and operational statistics of the ambulance service of the National Health Service has been published by the Ministry of Health. In the year ended March 31, 1951, 4,149 ambulances and cars carried over 9m. patients and ran more than 89m. miles.
The total cost of the ambulance services was £7,411,502. of which £5,849,995 represented the cost of directly operated vehicles. The average cost per vehicle-mile was is. 8d., covering all ambulance services except rail, or £169 per 1,000 population. The average cost per patient was 15s. 6d.
An analysis of the expenditure on vehieles directly operated by the National Health Service shows that of the total cost, 59.7 per cent, represented
staff wages and salaries, 19.5 per cent. fuel and maintenance, 5.6 per cent, the provision of vehicles, 4.1 per cent. maintenance and purchase of premises, and 11.1 per cent. other expenses, including administration costs. The population served totalled 43,871,371, and the average number of people per 'acre was 1.2.
By contrast, in the county of London, a population of 3,387,566 was served in an acreage of 76,293, giving a density of population of 44.4 per acre. In this area 648 ambulances were operated and ran a total mileage of 3.5m. at an average cost of 2s. Id. per mile. The highest cost pr mile recorded was 3s. lid., the figure returned by Bootle,
The lowest figure was recorded by Merioneth, which operated over 250.000 miles at an average of 10d. per mile.