Camp Service Case Surprise
25th July 1952
Page 36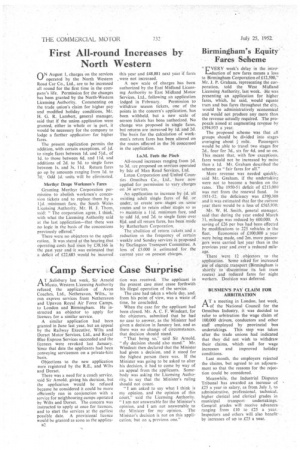 Page 36, 25th July 1952 —
Camp Service Case Surprise
Close
AT ,Salisbury last week, Sir Arnold Must°, Western Licensing Authority refused the application of Avon Coaches, Ltd., Netheravon, Wilts., to run express services from Netheravon and Upavon Royal Air Force Camps, to London and Birmingham. He instructed an objector to apply for licences for a similar service.
A similar application had been granted in June last year, but an appeal by the Railway Executive, Wilts and Dorset Motor Services, Ltd.. and Royal Blue Express Services succeeded and the licences were revoked last January. Since that date the applicants had been conveying servicemen on a private-hire basis.
Objections to the new application were registered by the R.E., and Wilts and Dorset.
There was a need for a coach service, said Sir Arnold, giving his decision, but the application would be refused because he considered it could be more efficiently run in conjunction with a service for neighbouring camps operated by Wilts and Dorset. The concern was instructed to•apply at once for licences, and to start the services at the earliest possible date. A provisional licence would be granted as soon as the applica n2 tion was received. The applicant in the present case must cease forthwith his illegal operation of the service.
The case had taken a whole day, and, from his point of view, was a waste of time, he concluded.
When the case for the applicant had been closed, Mr. A. C. F. Windeatt, for the objectors, submitted that he had no case to answer, as the Minister had given a decision in January last, and as there was no change of circumstances, that decision should stand.
"That being so," said Sir Arnold, "ray decision should also stand." Mr. Wincleatt then declared that the Minister had given a decision, and it stood for the highest person there was. If the Minister was going to be asked to alter his decision, it had to come by way of an appeal from the applicants. Somebody was asking the Licensing Authority_ to say that the Minister's ruling should not count.
"I am asked to say what I think is my opinion, and the opinion of this court," said the Licensing Authority. "I am not answerable for the Minister's opinion, and I am not answerable to the Minister for my opinion. The Minister's decision is not on this application, but on a, previous one."