One-day Tour Test Case Decided:
25th July 1952
Page 33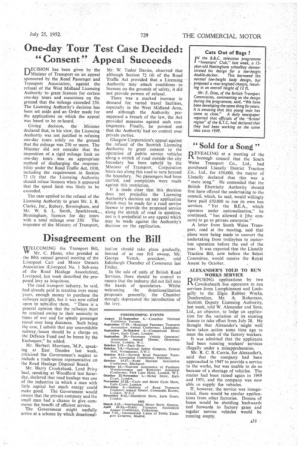 Page 33, 25th July 1952 —
One-day Tour Test Case Decided:
Close
6 6 Consent" Appeal Succeeds DECISION has been given by the L/Minister of Transport on an appeal sponsored by the Road Passenger and Transport Association, against the refusal of the West Midland Licensing Authority to -grant licences for certain one-day tours and " excursions on the ground that the. mileage exceeded 250. The Licensing Authority's decision has been set aside and an Order made for the applications on which the appeal was based to be re-heard.
Giving decision, the Minister declared that, in his view, the Licensing Authority was not justified in refusing one-day tours. solely on the ground that the mileage was 250 or more. The Minister did not consider that the imposition of a rigid mileage limit on one-day tours .was an appropriate method of discharging the responsibility under' the Road Traffic Act, 1930, including the requirement in Section 72 (3) that the Licensing Authority should refuse licences when it appeared that the speed limit was likely to be exceeded.
The case applied to the refusal of the Licensing Authority to grant Mr. J. R. Clarke, Jnr., Rubery, Birmingham, and Mr. W. S. L. Smith, Sparkbrook" Birmingham, licences for day tours with a total mileage over 250. The inspector of the Ministry of Transport, Mr. W. Tudor Davies, observed that although Section 72 (4) of the Road Traffic Act provided that,, a Licensing Authority may attach conditions -to licences on the grounds of safety, it did not provide powers of refusal.
There was a marked increase in demand for varied travel facilities, especially in the West Midland -Area, and although the Authority presupposed a breach of the law, the Act provided measures against such contingencies. Finally, he pointed out that the Authority had no control over private parties.
Glasgow Corporation's appeal against the -refusal of the Scottish Licensing Authority to grant • consent to the operation of public service vehicles along a stretch of road outside the city boundary has been upheld by the Minister of Transport. Corporation buses ran along this road to turn beyond the boundary. No passengers had been carried, and complaints were made against this restriction.
It is made clear that this decision does not prejudice the Licensing Authority's decision on any application Which may be made for a road service licence to provide the proposed service along the stretch of road in question, nor is it prejudicial to any appeal which may be made against the Authority's decision on the application.