Passing Comments
25th July 1952
Page 30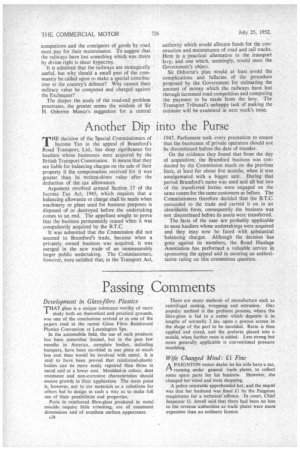 Page 31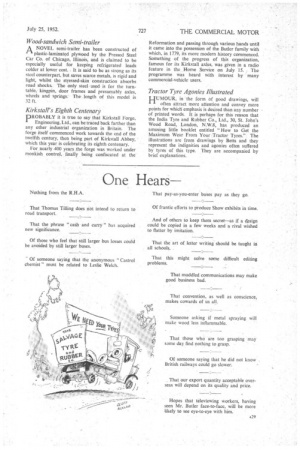 Page 30, 25th July 1952 —
Passing Comments
Close
Development in Glass-fibre Plastics
THAT glass is a unique substance worthy of more I study both on theoretical and practical grounds, was one of the conclusions arrived at in one of the papers read at the recent Glass Fibre Reinforced Plastics Convention at Leamington Spa.
In the automobile field, the use of such products has been somewhat limited, but in the past few months in America, complete bodies, including bumpers, have been moulded in one piece at much less cost than would be involved with metal. It is said to have, been proved that reinforced-plastic bodies can be more easily repaired than those in metal and at a lower cost. Moulded-in colour, dent resistance and non-corrosive characteristics should ensure growth in their application. The main point is, however, not to use materials as a substitute for others but to design in such a way as to make full use of their possibilities and properties.
Parts in reinforced fibre-glass produced in metal moulds require little trimming, are of consistent dimensions and of excellent surface appearance. There are many methods of manufacture such as centrifugal casting, wrapping and extrusion. One popular method is the preform process, where the fibre-glass is fed to a cutter which deposits it in lengths of normally 2 ins, upon a porous screen in the shape of the part to be moulded. Resin is then applied and cured, and the preform placed into a mould, when further resin is added. Less strong but more generally applicable is conventional pressure moulding.
Wife Changed Mind: El Fine A PAIGNTON motor dealer let his wife have a car, running under general trade plates, to collect some spare parts for his business. However, she changed her mind and went shopping.
A police constable apprehended her, and the sequel was that her husband was fined 1 by the Paignton magistrates for a technicaroffence. In court, Chief Inspector G. Jewell said that there had been no loss to the revenue authorities as trade plates were more expensive than an ordinary licence.
Wood-sandwich Semi-trailer
A NOVEL semi-trailer has been constructed of plastic-laminated plywood by the Pressed Steel Car Co. of Chicago, Illinois, and is claimed to be especially useful for keeping refrigerated loads colder at lower cost. It is said to be as strong as its steel counterpart, but saves scarce metals, is rigid and light, whilst the stressed-skin construction absorbs road shocks. The only steel used is for the turntable, kingpin, door frames and presumably axles, wheels and springs. Thelength of this model is 32 ft.
Kirkstall's Eighth centenary
PROBABLY it is true to say that Kirkstall Forge, Engineering, Ltd., can be traced back farther than any other industrial organization in Britain. The forge itself commenced work towards the end of the twelfth century, then being part of Kirkstall Abbey, which this year is celebrating its eighth centenary. For nearly .400 years the forge was worked under monkish control, ,finally being confiscated at the Reformation and passing through various hands until it came into the possession of the Butler family with which, in 1779, its more modern history commenced. Something • of the progress of this organization, famous for its Kirkstall axles, was given in a radio feature in the Home Service on July 15. . The programme was heard with interest by many commercial-vehicle' users.
Tractor Tyre Agonies Illustrated
HUMOUR, in the form of good drawings, will often attract more attention and convey more points for which emphasis is desired than any number of printed words. It is perhaps for this reason that the India Tyre and Rubber Co., Ltd., 30, St. John's Wood Road, London, N.W.8, has produced an amusing little booklet entitled "How to Get the Maximum Wear From Your Tractor Tyres." The illustrations are from drawings by Betts and they represent the indignities and agonies often suffered by tyres of this type. They are accompanied by brief explanations.