Before the British Army bought its new Unipower high-mobility 8x8
25th January 1996
Page 30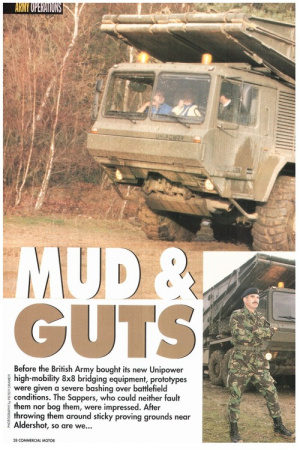 Page 31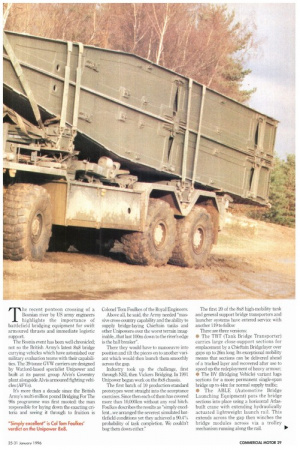 Page 32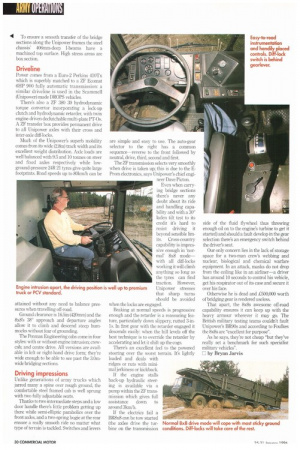 Page 30, 25th January 1996 —
Before the British Army bought its new Unipower high-mobility 8x8
Close
bridging equipment, prototypes (:) were given a severe bashing over battlefield conditions. The Sappers, who could neither fault them nor bog them, were impressed. After rD, throwing them around sticky proving grounds near
2 Aldershot, so are we... The recent pontoon crossing of a Bosnian river by US army engineers highlights the importance of battlefield bridging equipment for swift armoured thrusts and immediate logistic support.
The Bosnia event has been well chronicled; not so the British Army's latest 8x8 bridge carrying vehicles which have astonished our military evaluation teams with their capabilities. The 39-tonne GVW carriers are designed by Watford-based specialist Unipower and built at its parent group Alvis's Coventry plant alongside Alvis armoured fighting vehicles (AFVs).
It's more than a decade since the British Army's multi-million pound Bridging For The 90s programme was first mooted: the man responsible for laying down the exacting criteria and seeing it through to fruition is Colonel Tom Foulkes of the Royal Engineers.
Above all, he said, the Army needed "massive cross-country capability and the ability to supply bridge-laying Chieftain tanks and other Unipowers over the worst terrain imaginable".that last 100m down to the river's edge is the bail breaker".
There they would have to manoeuvre into position and tilt the pieces on to another variant which would then launch them smoothly across the gap.
Industry took up the challenge, first through NEI, then Vickers Bridging. In 1991 Unipower began work on the 8x8 chassis, The first batch of 10 production-standard prototypes went straight into the acceptance exercises. Since then each of them has covered more than 10,000km without any real hitch. Foulkes describes the results as "simply excellent.. we arranged the severest simulated battlefield conditions yet they achieved a 90.4% probability of task completion. We couldn't bog them down either." The first 20 of the 8x8 high-mobility tank and general support bridge transporters and launcher systems have entered service with another 119 to follow There are three versions: • The TBT (Tank Bridge Transporter) carries large close-support sections for emplacement by a Chieftain Bridgelayer over gaps up to 26m long Its exceptional mobility means that sections can be delivered ahead of a tracked layer and recovered after use to speed up the redeployment of heavy armour; • The BV (Bridging Vehicle) variant lugs sections for a more permanent single-span bridge up to 44m for normal supply traffic; • The ABLE (Automotive Bridge Launching Equipment) puts the bridge sections into place using a horizontal Atlasbuilt crane with extending hydraulically actuated lightweight launch rail. This extends across the gap then winches the bridge modules across via a trolley mechanism running along the rail. To ensure a smooth transfer of the bridge sections along the Unipower frames the steel chassis' 406nun-deep 1-beams have a machined top surface. High stress areas are box section.
Driveline
Power comes from a Euro-2 Perkins 410Tx which is superbly matched to a ZF Ecomat 6HP 900 fully automatic transmission: a similar driveline is used in the Scammell (Unipower)-made DROPS vehicles.
There's also a ZF 380 30 hydrodynamic torque convertor incorporating a lock-up clutch and hydrodynamic retarder, with twin engine-driven declutchable multi-plate PT-Os. A ZF transfer box provides permanent drive to all Unipower axles with their cross and inter-axle diff-locks.
Much of the Unipower's superb mobility comes from its wide (2.8m) track width and its excellent weight distribution. Axle loads are well balanced with 9.5 and 10 tonnes on steer and fixed axles respectively while lowground-pressure 24R 21 tyres give quite large footprints. Road speeds up to 80km/h can be attained without any need to balance pressures when travelling off-road.
Ground clearance is 16.5in (420mm) and the 8x8's 38° approach and departure angles allow it to climb and descend steep hummocks without fear of grounding.
The Penman Engineering cabs come in four styles: with or without engine intrusion; crewcab; and centre drive. All versions are available in left or right-hand drive form; they're wide enough to be able to see past the 3.0mwide bridging sections.
Driving impressions
Unlike generations of army trucks which jarred many a spine over rough ground, the comfortable steel framed cab is well sprung with two fully adjustable seats.
Thanks to two intermediate steps and a low door handle there's little problem getting up there while semi-elliptic parabolics over the front axles, and a two-spring bogie at the rear ensure a really smooth ride no matter what type of terrain is tackled. Switches and levers are simple and easy to use. The auto-gear selector to the right has a common sequence—reverse to the front followed by neutral, drive, third, second and first.
The ZF transmission selects very smoothly when drive is taken up; this is due to the E. Prom electronics, says Unipower's chief engineer Dave Picton.
Even when carrying bridge sections there's never any doubt about its ride and handling capability and with a 30° laden tilt test to its credit it's hard to resist driving it beyond sensible limits. Cross-country capability is impressive enough in 'normal' 8x8 mode— with all diff-locks working it will climb anything so long as the tyres can find traction. However, Unipower stresses that sharp turns should be avoided when the locks are engaged.
Braking at normal speeds is progressive enough and the retarder is a reassuring feature, particularly down slippery, rutted 3-inis. In first gear with the retarder engaged it descends easily: when the hill levels off the best technique is to override the retarder by accelerating and let it shift up the cogs.
If the engine stalls back-up hydraulic steering is available via a pump within the ZF transmission which gives full assistance down to around 3km/h.
If the electrics fail a BR8x8 can be tow started (the axles drive the turbine on the transmission side of the fluid flywheel thus throwing enough oil on to the engine's turbine to get it started) and should a fault develop in the gear selection there's an emergency switch behind the driver's seat.
Our only concern lies in the lack of storage space for a two-man crew's webbing and nuclear, biological and chemical warfare equipment. In an attack, masks do not drop from the ceiling like in an airliner—a driver has around 10 seconds to control his vehicle, get his respirator out of its case and secure it over his face.
Otherwise he is dead and £500,000 worth of bridging gear is rendered useless.
That apart, the 8x8s awesome off-road capability ensures it can keep up with the heavy armour wherever it may go. The British military testing teams couldn't fault Unipower's BR90s and according to Foulkes the 8x8s are "excellent for purpose".
As he says, they're not cheap "but they've really set a benchmark for such specialist military vehicles".
E by Bryan Jarvis