Extra Tours Refused Out of Hand
25th January 1957
Page 53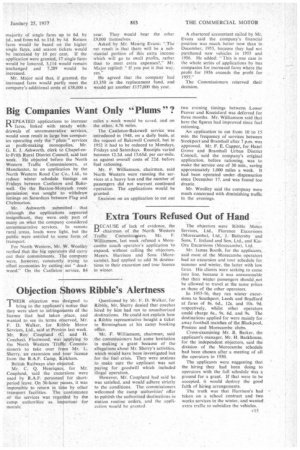 Page 53, 25th January 1957 —
Extra Tours Refused Out of Hand
Close
BECAUSE of lack of evidence, the chairman of the North Western Traffic Commissitners, Mr. F. Williamson, last week refused a Morecarribe coach operator's application 'to expand, without calling the objectors. Messrs. Harrison and Sons (Morecambe), had applied to add 36 destinations to their excursion and tour licence in winter.
The objectors were Ribble Motor Services, Ltd., Florence Excursions (Morecambe), Ltd., I. • Battersby and Sons, T. Ireland and Son, Ltd., and KinOra Excursions (Morecambe), Ltd.
Mr. James Booth, for the applicants, . said most of the Morecambe operators had an excursion and tour schedule for summer and winter, the latter with low fares. His clients were seeking to come into line, because it was unreasonable that their whiter passengers should \not be allowed to travel at the same prices as those of the other operators.
In 1955-56, they ran winter excursions to Southport, Leeds and Bradford at fares of 8s, 6d., I2s. and 10s. 9d. respectively, whilst other operators could charge 6s., 9s. 6d. and 9s. The destinations applied for were mainly for away football matches of the Blackpool, Preston and Morecambe clubs.
Cross-examining Mr. R. Barker, the applicant's manager, Mr, H. Backhouse, for the independent objectors, said the division of the Morecambe schedule had been chosen after a meeting of all the operators in 1930.
The applicants were suggesting that the hiring they had been doing to operators with the full schedule as a ground for a grant. If that were to be accepted, it would destroy the good faith of hiring arrangements.
The truth was that Harrison's had taken on a school contract and two works services in the winter, and wanted extra traffic to subsidize the vehicles.