Actions Against Cut-price Trader
25th January 1957
Page 41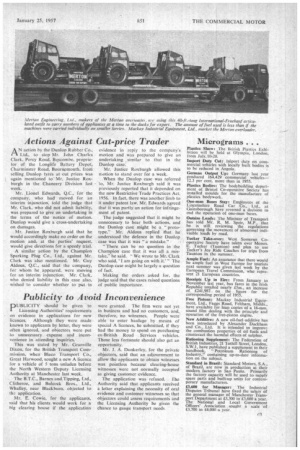 Page 41, 25th January 1957 —
Actions Against Cut-price Trader
Close
AN action by the Dunlop Rubber Co" Ltd., to stop Mr. John Charles Clark, Percy Road, Boscombe, proprietor of the Longlife Battery Depot, Charminster Road, Bournemouth, from selling Dunlop tyres at cut prices was again mentioned to Mr. Justice Roxburgh in the Chancery Division last week.
Mr. Lionel Edwards, Q.C., for the company, who had moved for an interim injunction, told the judge that Mr. Clark, who did not admit liability, was prepared to give an undertaking in the terms of the notice of motion. Dunlop would give a cross-undertaking on damages.
Mr. Justice Roxburgh said that he would accordingly make no order on the motion and, at the parties' request, would give directions for a speedy trial.
A similar action by the Champion Sparking Plug Co., Ltd., against Mr. Clark was also mentioned. Mr. Guy Aldous. Q.C., said that the company, for whom he appeared, were moving for an interim injunction. Mr. Clark, who denied liability in this case also, wished to consider whether to put in evidence in reply to the company's motion and was prepared to give an undertaking similar to that in the Dunlop case.
Mr. Justice Roxburgh allowed this motion to stand over for a week.
When the Dunlop case was referred to, Mr. Justice Roxburgh said it was previously reported that it depended on the new Restrictive Trade Practices Act. 1956. In fact, there was another limb to it under patent law. Mr. Edwards agreed that it was partly an action for infringement of patent.
The judge suggested that it might be unnecessary to hear both actions, and the Dunlop case might be a "prototype." Mr. Aldous replied that he understood the defence in the Dunlop case was that it was "a mistake."
"There can be no question in the Champion case that it was all a mistake," he said. 'We wrote to Mr. Clark who said, ' I am going on with it.'" The Dunlop case might be largely a question of fact.
Making the orders asked for, the judge said that the cases raised questions of public importance.