After New Markets : Recruiting Labour
25th January 1957
Page 40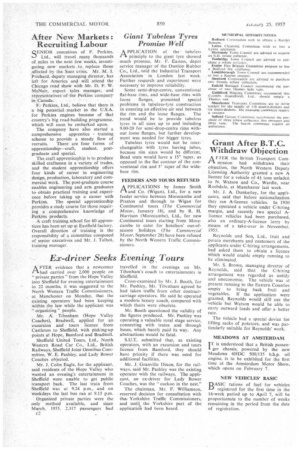 Page 40, 25th January 1957 —
After New Markets : Recruiting Labour
Close
SENIOR executives of F. Perkins, Ltd., will travel many thousands of miles in the next few weeks, investigating new markets to replace those .affected by the Suez crisis. Mr. .M. I. Prichard, deputy managing director, has left for America and will attend the Chicago road show with Mr. D. R W. McNair, export sales manager, and re.presentatives.of'the Perkins company. in Canada.:
F. Perkins, Ltd., believe that there is a big potential market in the U.S.A. for Perkins engines because of that country's big road-building programme, which will soon be embarked upon.
The company have also started a comprehensive apprentice training scheme to provide a steady flow of recruits. There are four forms of apprenticeship—craft, student, postgraduate and special.
The craft apprenticeship is to produce skilled craftsmen in a variety of trades, and the student apprenticeship offers four kinds of career in engineering design, production, laboratory and commercial work. The post-graduate course enables engineering and arts graduates to obtain practical training and experience before taking up a career with Perkins. The special apprenticeship provides a study course for those requiring a comprehensive knowledge of Perkins products.
A craft training school for 60 apprentices has been set up at Eastfield factory. Overall direction of training is the responsibility of a committee composed of senior executives and Mr. J. Talbot, training manager.