Trunk Revenue Trebled: Extra C. and D. Vehicles
25th January 1957
Page 39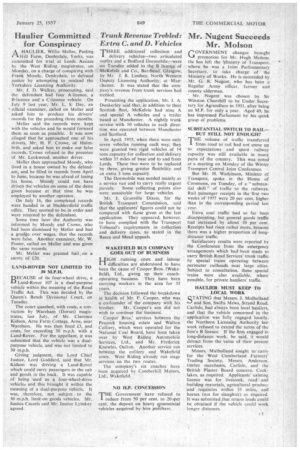 Page 39, 25th January 1957 —
Trunk Revenue Trebled: Extra C. and D. Vehicles
Close
THREE additional collection and delivery vehicles—two articulated outfits and a Bedford Durk/labile—were on Tuesday added to the B licence of McKelvie and Co., Barrhead. Glasgow, by Mr. J. R. Lindsay, North Western Deputy Licensing Authority, at Manchester. It was stated that the company's revenue from trunk services had trebled.
Presenting the application, Mr. J. A. Dunkerley said that, in addition to their Scottish fleet, McKelvie had nine A and special A vehicles and a trailer based at Manchester. A nightly trunk service with 10 vehicles in each direction was operated between Manchester and Scotland.
In April. 1955, when there were only seven vehicles running each way, they were granted two rigid vehicles of 14 tons capacity for collection and delivery within 35 miles of base and to and from Leeds. These two were to be replaced by three, giving greater flexibility and an extra 3 tons capacity.
The Dormobile was needed mainly as a service van and to carry really urgent parcels. Some collecting points also were unsuitable for large vehicles.
Mr. J. Granville Dixon, for the British Transport Commission, said that the applicants' figures could not be compared with those given at the last application. They appeared, however, to have complied with the Transport Tribunal's requirements in collection and delivery cases, as stated in the Reece and Mead appeals.
WAKEFIELD BUS COMPANY GOES OUT OF BUSINESS
HIGH running costs and labour difficulties are understood to have been the cause of Cooper Bros. (Wakefield), Ltd., giving up their coachoperating business. They have been carrying workers in the area for 35 years.
• The decision followed the breakdown in health of Mr. F. Cooper, who was a co-founder of the company with his brother. Mr. Cooper's son did not wish to continue the business.
Cooper Bros.' services between the Peacock housing estate ad Walton Colliery, which were operated for the National Coal Board, have been taken over by West Riding Automobile Services, Ltd., and Mr. Frederick Knowles, Oulton. Another service ran between the colliery and Wakefield town. West Riding already run stage services, on the two routes.
The company's six coaches have been acquired by Comberhill Motors, Ltd., Wakefield.
NO H.P. CONCESSION
THE Government have refused to reduce from 50 per cent. to 20 cer cent. the deposit on heavy cipmmercial vehicles acquired by hire purchase.