No Pooling Officer for T.R.T.A. Area
25th January 1957
Page 31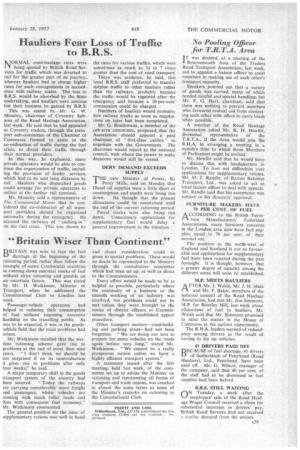 Page 31, 25th January 1957 —
No Pooling Officer for T.R.T.A. Area
Close
IT was decided. at a meeting of the 1 Bournemouth Area of the Traders Road Transport Association, last week, not to appoint a liaison officer to assist members in making use of each other's transport capacity.
Speakers pointed out that a variety of goods was carried, many of which needed careful and special handling, but Mr. F. G. Hart, chairman, said that there was nothing to prevent members who favoured mutual aid front contacting each other with offers to carry. loads when possible.
A member of the Road Haulage Association asked Mr. R. H. Hewlett, divisional representative of the T.R.T.A., if the Area would join the R.H.A. in arranging a meeting in a month's time to which three Members of Parliament might be invited.
Mr. Hewlitt said that he would have to •discuss this with headquarters in London. To iron out difficulties over applications for supplementary rations, Mr. M. J. Randle, of Barton Bakeries Transport, Ltd., was asked to act as local liaison officer to deal with appeals. Mr. Randle said that his acceptance was subject to his directors' approval.
FURNITURE MAKERS HAVE 70 PER CENT. OF FUEL CCORD1NG to the British Furnir-1 ture Manufacturers' Federated Associations, many furniture concerns in the London area now have fuel supplies equal to 70 per cent, of their normal use.
The position in the north-west of England and Scotland is not so favourable and applications for supplementary fuel have been rejected duririg the past fortnight. It is thought, however, that a greater degree of equality among the different areas will soon he established.
M.P. MEETS HAULIERS
AFTER Mr. J. Walsh, Mr. J. H. Male and Mr. F. Baker. members of the national council of the Road Haulage Association, had met Mr. Jim Simmons, M.P. for Brierley Hill, last week about allocations of fuel to hauliers, Mr. Walsh said that Mr. Simmons promised to raise the matter in the House of Commons at the earliest opportunity.
The R.H.A. leaders warned of redundancy among drivers as the result of having to lay up vehicles.
41 DRIVERS PAID OFF
BECAUSE of fuel shortage, 41 drivers of Sutherlands of Peterhead (Road Hauliers), Ltd.. Peterhead, have been paid off. Mr. G. Wilson, manager of the company, said that 40 per cent, of the staff had to be dismissed as fuel supplies had been halved.
B.R.S. STILL WAITING
ON Tuesday, a week after the employers' side of the Road Haulage Wages Council received a claim for substantial increases in drivers' pay, British Road Services had not received a similar demand from the unions.