"Britain Wiser Than Continent."
25th January 1957
Page 31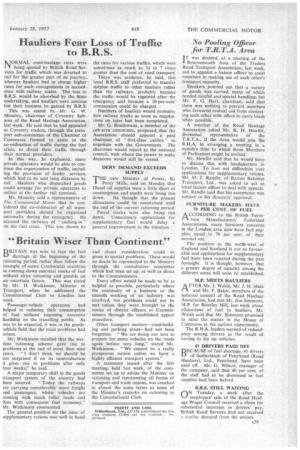 Page 31, 25th January 1957 —
"Britain Wiser Than Continent."
Close
BRITAIN was wise to face the fuel shortage at the beginning of the rationing period, rather than follow the example of .some Continental countries in running down essential stocks of fuel without strict rationing and gamble on an uncertain future. This was stated by Mr. H. Watkinson, Minister of Transport, when he addressed the Constitutional Club in London last week.
Passenger-vehicle operators had helped in reducing their consumption of fuel without imposing excessive hardship on the travelling public. As was to be expected, it was in the goodsvehicle field that the main problems had arisen.
Mr. Watkinson recalled that the wartime rationing scheme gave rise to problems at the end of more than nine years. "I don't think we should be too surprised if on its reintroduction it gives rise to problems after only four weeks," he Said.
A major temporary shift in the goods transport system of the country had been secured. "Today the railways are carrying considerably more freight and passengers, whilst vehicles are running with much fuller loads and thus with consequent fuel economy," Mr. Watkinson commented.
The general position on the issue of tupplementary rations was well in hand and closer consideration could be given to special problems. These would no doubt be represented to the Ministry through the consultative committee which had been set up, as well as direct to the Commissioners.
Every effort would be made to be as helpful as possible, particularly where the continuity of a business or the smooth working of an industry was involved, but problems could not be met unless they were brought to the notice of district officers or Commissioners through the established appeal procedure.
Other transport matters—road-building and parking plans—had not been forgotten. "We are doing our best to prepare for more vehicles on the roads again before very long," stated Mr. Watkinson.. "We cannot be a really prosperous nation unless we have a highly efficient transport system."
A statement issued after the first meeting, held last week, of the committee set up to advise the Minister on rationing and representing all forms of transport and trade unions, was couched in almost the same terms as some of the Minister's remarks on rationing to the Constitutional Club.