Two Convictions for Same Offence ?
25th January 1957
Page 30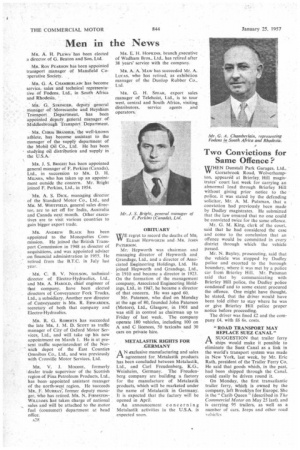 Page 30, 25th January 1957 —
Two Convictions for Same Offence ?
Close
wp-IEN Dunstall Park Garages, Ltd., YY Gorsebrook Road, Wolverhampton, appeared at Brierley, Hill magistrates' court last week for carrying an abnormal load through Brierley Hill without giving prior notice to the police, it was stated by the defending solicitor, Mr. A. M. Putsman, that a conviction had previously been made by Dudley magistrates. He submitted that the law ensured that no one could be convicted twice for the same offence.
Mr. G. M. King, clerk of the court, said that he had considered the case and come to the conclusion that an offence would be committed in every district through which the vehicle passed.
Mr. N. Bayley, prosecuting, said that the vehicle was stopped by Dudley police and escorted to the borough boundary, where it was met by a police car from Brierley Hill. Mr. Putsman said that by communicating with Brierley Hill police, the Dudley police condoned' and to some extent procured the offence. One might have thought, he stated, that the driver would have been told either to stay where he was or give Brierley Hill police proper notice before proceeding.
The driver was fined £2 and the company £4. with £6 fis. costs.
"ROAD TRANSPORT MAY REPLACE SUEZ CANAL"
A SUGGESTION that trailer ferry PI ships would make it possible to eliminate the Suez Canal as a link in the world's transport system was made in New York, last week, by Mr. Eric Rath, president of the Trailer Ferry Co. He said that goods which, in the past, had been shipped through the Canal, could easily be driven round it.
On Monday, the first transatlantic trailer ferry, which is owned by the company, left Brooklyn for Europe. She is the "Carib Queen "(described in The Commercial Motor on May 25 last), and is carrying 95 trailers, as well as a number of cars. Jeeps and other road veh ictes