Tribunal Allow Substitution: Extra Vehicles Referred Back
25th January 1957
Page 29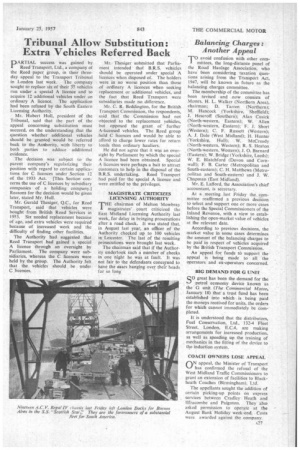 Page 29, 25th January 1957 —
Tribunal Allow Substitution: Extra Vehicles Referred Back
Close
pARTIAL success was gained by I Reed Transport, Ltd., a company of the Reed paper group, in their threeday appeal to the Transport Tribunal in London last week. The company sought to replace six of their 33 vehicles run under a special A licence and to acquire 12 additional vehicles under an ordinary A licence. The application had been refused by the South Eastern Licensing Authority.
Mr. Hubert Hull, president of the Tribunal, said that the part of the appeal concerning substitution must succeed, on the understanding that the question whether additional vehicles should be granted would be referred back to the Authority, with liberty to both parties to adduce additional evidence.
The decision was subject to the parent company's regularizing their position with regard to certain applications for C licences under Section 12 of the 1933 Act. [This Section concerns the use of C licences by subsidiary companies of a holding company.) Reasons for the decision would be given later, stated Mr. Hull.
Mr. Gerald Thesiger, Q.C., for Reed Transport, said that vehicles were bought from British Road Services in 1953. Six needed replacement because of age, and extra vehicles were required because of increased work and the , difficulty of finding other facilities.
The Authority had suggested that Reed Transport had gained a special A licence through an oversight by Parliament. The company were subsidiaries, whereas the C licences were held by the group. The Authority felt that the vehicles should be uncle! C licences. Mr. Thesiger submitted that Parliament intended that B.R.S. vehicles should be operated under special A licences when disposed of. The holders were in no worse position than those of ordinary A licences when seeking replacement or additional vehicles, and the fact that Reed Transport were subsidiaries made no difference.
Mr. C. R. Beddington, for the British Transport Commission, the respondents, said that the Commission had not objected to the replacement vehicles, but opposed the grant of further A-licensed vehicles. The Reed group held C licences and would be able to afford to charge lower rates for return loads than ordinary hauliers.
He did not agree that it was an oversight by Parliament by which the special A licence had been obtained. Special A licences were perhaps a bait to attract customers to help in the disposal of the B.R.S. undertaking. Reed Transport had paid for the special A licence and were entitled to the privileges.
MAGISTRATE CRITICIZES LICENSING AUTHORITY
THE chairman of Melton Mowbray magistrates' court criticized the East Midland Licensing Authority last week, for delay in bringing prosecutions after a road check. It was stated that, in August last year, an officer of the Authority checked up to 100 vehicles in Leicester. The last of the resulting prosecutions were brought last week.
The chairman said that if the Authority undertook such a number of checks in one night he was at fault. It was not fair to the defendants concepied to have the eases hanging over their heads for so long