Screen test for Prestel
25th December 1982
Page 18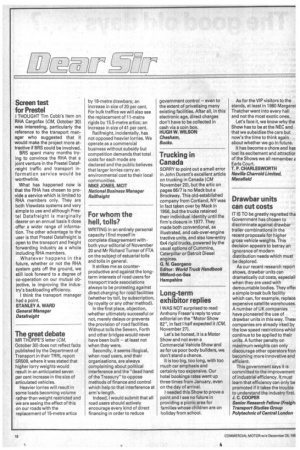 Page 18, 25th December 1982 —
Screen test for Prestel
Close
I THOUGHT Tim Cobb's item on RHA Cargofax (CM, October 30) was interesting, particularly the reference to the transport manager who suggested that it would make the project more attractive if BRS could be involved.
BRS spent many months trying to convince the RHA that a joint venture in the Prestel Datafreight traffic and transport information service would be worthwhile.
What has happened now is that the RHA has chosen to provide a service which is limited to RHA members only. They are both Viewdata systems and very simple to use and although Prestel Datafreight is marginally dearer on an annual basis it does offer a wider range of information. The other advantage to the user is that Prestel Datafreight is open to the transport and freight forwarding industry as a whole including RHA members.
Whatever happens in the future, whether or not the RHA system gets off the ground, we still look forward to a degree of co-operation on our mutual objective, ie improving the industry's backloading efficiency.
1 think the transport manager had a point.
STANLEY A. WARD General Manager Datafreight