ALDERMEN'S ORDERS.
25th April 1922
Page 15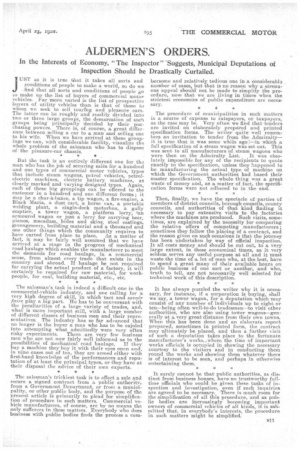 Page 15, 25th April 1922 —
ALDERMEN'S ORDERS.
Close
In the Interests of Economy, "The Inspector" "Suggests, Municipal Deputations of Inspection Should be Drastically Curtailed.
JUST as it is tree that it takes all sorts and conditions of people to make a world, so do we
• find that all sorts and conditions of people go so make up the list of buyers of commercial motor vehicles. Far more varied is the list of prospective buyers of utility vehicles than is that of those to whom we seek to sell touring and pleasure cars. The latter can be roughly and readily divided into two or three large groups, the demarcation of such groups being principally decided by their purchasing powers. There is, of course, a great differ• ence between selling a car to a man and selling one to his wife. When we have arrived at these groupings we can, with considerable facility, visualize the whole problem of the salesman who has to dispose of the pleasure-car chassis.
But the task is an entirely different one for the man who has the, job of securing sales for a hundred arid one types of commercial motor vehicles, types that include steam wagons, petrol vehicles, petrolelectric machines, electric battery machines, aS clearly marked and varying designed types. Again, each of these big groupings can be offered to the customer in a hundred and one different forms ; it may be a char-a-banes, a tip wagon, a fire-engine, a Black Maria, a dust cart, a horse van, a portable welding plant, a single-deck motorbus, a gully emptier, a tower wagon, a platform lorry, si,n armoured wagon or just a lorry for carrying beer, pianos, macadam, hides and skins, steel castings, greengrocery, building material and a thousand and one other things which the community requires to have carted from place to place. As a matter of fact, it may he fairly well assumed that we have arrived at a stage in the progress of mechanical road haulage which enables the manufacturer to meet the demands for road haulage, in a commercial sense, from almost every trade that exists in the country and abroad. If haulage be not required for carrying the actual product of a factory, it will certainly be required for raw material, for workpeople, for coal, building material, etc., etc.
The salesman's task is indeed a difficult one in the commercial-vehicle industry, and one calling for a very high degree of skill, in which •tact and salmir fcure play a big part. He has to be conversant with the peculiarities of a large variety of trades, and, • what is more important still, with a large number of different classes of business men and their representatives. The industry has so far advanced that no longer is the buyer a man who has to be cajoled into attempting what admittedly 'were very often risky experiments. There are very few business men who are not now fairly well informed as to the possibilities of mechanical road haulage. If they buy a machine they buy it with their eyes open and, in nine eases out of ten, they are armed either with first-band knowledge of the performances and reputation of at least the principal types, or they have at their disposal the advice of their own experts.
The salesman's trickiest task is to effect a sale and secure a signed contract from a public authorityl from a Government Department, or from a municipality, or other public body, and the purpose of the i present article s primarily to plead for simplification of procedure in such matters. Commercial vehicle manufacturers, of course, are by no means the only sufferers in these matters, Everybody who does business with public bodies finds the process a cum
bersome and relatively tedious one in a considerable number of cases, but that is no reason why a strenuous appeal should not be made to simplify the procedure, now that we are living in times when the strictest economies of public expenditure are neces sary.
The procedure of municipalities in such matters is a source of expense to ratepayers, or taxpayers, as the case may be. Very often we find that-tenders are invited on elaborately prepared and printed specification forms. The writer quite well remembers an invitation to tender from the Admiralty— it is true that it was some while ago:—in which a full specification of a steam wagon was set out. This was sent to all manufacturers of steam wagons who
were then on the Admiralty List. It was absolutely impossible for any of the recipients to quote exactly to the specification, unless they happened to be manufacturing the actual type of machine on which the Government authorities had based their master specification. The whole thing was a great waste of money and, as a, matter of fact, the specification forms were not adhered to in the end.
Then, finally, we have the spectacle of parties of members of district councils, borough councils, county councils, and authorities of that kind finding it necessary to pay extensive visits to the factories where the machines are produced. Such visits, sometimes, are explained by the necessity for comparing the relative offers of competing manufacturers; sometimes they follow the placing of a contract, and the reason given on such occasions is that the journey has been undertaken by way of official inspection. It all costs money and should be cut out, to a very large extent, in these economical times, as it very seldom serves any useful purpose at all and it must waste the time of a lot of men who, at the best, have to spend a great many of their available hours on public business of one sort or another, and who, truth to tell, are not necessarily well selected for technical work of this description.
It has always puzzled the writer why it is necessary, for instance, if a corporation is :buying, shall -we say, a tower wagon, for a deputation which -may consist of any number of individuals up to eight or ten—being often well-to-do tradesmen—to visit other authorities, who are also using tower wagons—generally at a very great distance from their own towns. When this has been done and an elaborate report prepared, sometimes in printed form, the contract may ultimately be placed, and then a further visit of such a deputation takes place to the fortunate manufacturer's works, where the time of important works officials is occupied in showing the necessary courtesy to the visitors and in conducting them round the works and showing them whatever there is of interest to be seen, and perhaps in otherwise entertaining them.
It surely cannot be that public authorities, as distinct from business houses, have no trustworthy fulltime officials who could be given these tasks of inspection and investigation, even if such inquiries are agreed to be neceSsaxy. There is much room for the simplification of all this procedure, and as publie bodies are increasingly becoming important owners of commercial vehicles of all kinds, it is submitted that, in everybody's interests, the procedure in such matters might be simplified.