News and Comment.
25th April 1912
Page 10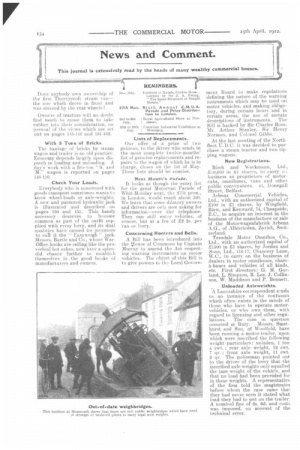 Page 10, 25th April 1912 —
News and Comment.
Close
This journal is extensively read by the heads of many wealthy commercial houses.
Does anybody own ownership of the first Thornycroft steam van— the one which drove in front and was steered by the rear wheels?
Owners of tractors will no doubt find much to cause them to take rubber into their consideration, on perusal of the views which are set out on pages 1.45-146 and 161-162.
With 5 Tons of Bricks.
The haulage of bricks by steam wagon and trailer is an old practice. Economy depends largely upon dispatch in loading and unloading. A day's work with a five-ton " S. arid M." wagon is reported on pages 146-10.
Check Your Loads.
Everybody who is concerned with goods transport sometimes wants to know wheel-loads or axle-weights. A new and patented hydraulic jack is illustrated and described on pages 150 and 151. This handy accessory deserves to become common as part of the outfit supplied with every lorry, and its dual qualities have caused its inventors to call it the Easyweigii " jack. Messrs. Bartle and Co., whose WarOffice hooks are selling like the proverbial hot cakes, now have a splendid chance further to establish themselves in the good books of manufacturers and owners. 2nd to 6th I Iloyal Agricultural Show at Don July. ; caster.
10th to 20th Canadian Industrial Exhibition at•July WInnipeg
tion in London.
Lists of Replacements.
Our offer of a prize of two guineas, to the driver who sends in the most complete twelve-months' list of genuine replacements and repairs to the wagon of which he is in charge, closes on the 1st of May. These lists should be concise.
Next Month's Parade.
It looks as though the entry list for the great Motorvan Parade of Whit-Monday next, th 27th prox., in London, would reach about 320. We learn that some dilatory owners and drivers are only now asking for information—over the telephone. They can still entrrir vehicles, of course, but at a fee of 22 2s. per van or lorry.
Concerning Hooters and Bells.
A Bill has been introduced into the 1,1ouse of Commons by Captain Murray to amend the Act respecting warning instruments on motor vehicles. The object of this Bill is to give powers to the Local Govern
merit Board to make regulations defining the nature of the warning instruments which may be used on motor vehicles, and making obligatory, during certain hours and in certain areas, the use of certain descriptions of instruments. The Bill is backed by Sir Charles Rose. Mr. Arthur Stanley, Sir Henry Norman, and Colonel Gibbs.
At the last meeting of the Northfleet U.D.C. it was decided to purchase a steam tractor and two tipping wagons.
New Registrations.
Birch and Workmann, Ltd., 210,000 in 21 shares, to carry 1J,, business as proprietors of motorcabs, omnibuses, vans and other public conveyances. 44, Donegall Street, Belfast.
Arbenz Commercial Vehicles, Ltd., with an authorized capital of £100 in 21 shares, by Wingfield, Blew, and Kenward, 74, Cheapside, E.C., to acquire an interest in the business of the manufacture or sale of the Motorwagenfabriek Arbenz A.G., of Albisrieden, Zurich, Switzerland.
Teesdale Motor Omnibus Co., Ltd., with an authorized capital of 21500 in 21 shares, by Jordan and Sons, Ltd., 116-17, Chancery Lane, W.C., to carry on the business of dealers in motor omnibuses, charsh-bancs and vehicles of all kinds, etc. First directors: G. M. Gorland, L. Simpson, R. Lee, J. Collinson, W. Maddison and P. Bennett.
Unleaded Axleweiehts.
A Lancashire correspondent sends us an instance of the confusion which often exists in the minds of those who have to operate motorvehicles, or who own them, with regard to licensing and other regulations. The ease in question occurred at Bury. Messrs. Smethurst and Son, of Woolfold, have been running a motor-trailer, upon which were inscribed the following weight particulars: unladen, 1 ton 4 cwt. ; rear axle weight, 12 cwt. 7 qr. ; front axle weight, 11 cwt. 2 qr. The policeman pointed out to the driver of the lorry that the inscribed axle weights only equalled the tare weight of the vehicle, and that no load had been provided for in these weights. A representative of the firm told the magistrates before whom the case came that they had never seen it stated what load they had to put on the trailer. A nominal fine of 2s. 6d. and costs was imposed, on account of the technical error.
Tags
People
:
Charles Rose
,
W. Maddison
,
Kenward
,
P. Bennett
,
G. M. Gorland
,
Murray
,
Arthur Stanley
,
R. Lee
,
J. Collinson
,
Henry Norman
,
L. Simpson