meet
24th September 1971
Page 54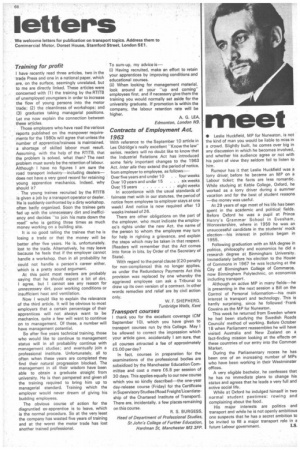 Page 54, 24th September 1971 —
meet
Close
• Leslie Huckfield, MP for Nuneaton, is not the kind of man you would be liable to miss in a crowd. Slightly built, he comes over big in any discussion in which he becomes involved, and whether his audience agree or not with his point of view they seldom fail to listen to him.
Rumour has it that Leslie Huckfield was a lorry driver before he became an MP on a Labour ticket: the facts are less romantic. While studying at Keble College, Oxford, he worked as a lorry driver during a summer vacation and for the best of student reasons —the money was useful.
At 29 years of age most of his life has been spent in the academic and political fields. Before Oxford he was a pupil at Prince Henry's Grammar School in Evesham, Worcestershire, where in 1959 he was an unsuccessful candidate in the students' mock election—his interest in politics began in 1955.
Following graduation with an MA degree in politics, philosophy and economics he did a research degree at Birmingham University. Immediately before his election to the House of Commons in 1967 he was lecturing at the City of Birmingham College of Commerce, now Birmingham Polytechnic, on economics including transport.
Although an active MP in many fields—he is presenting in the next session a Bill on the Control of Personal Information—his main interest is transport and technology. This is hardly surprising, since he followed -Frank Cousins as the MP for Nuneaton.
This week he returned from Sweden where he had been studying the Swedish Roads Councils' method of working. Before October 18 when Parliament reassembles he will have visited Australia and New Zealand on a fact-finding mission looking at the effects on these countries of our entry into the Common Market.
During the Parliamentary recess he has been one of an increasing number of MPs who have been working in their Westminster offices.
A very eligible bachelor, he confesses that he has no immediate plans to change his status and agrees that he leads a very full and active social life.
While at Oxford he indulged himself in two normal student pastimes: rowing and complaining about the food.
His major interests are politics and transport and while he is not openly ambitious one suspects that he has a secret ambition to be invited to fill a major transport role in a future Labour government. I.S.