WHO ARE YOU HELPING?
24th October 2002
Page 20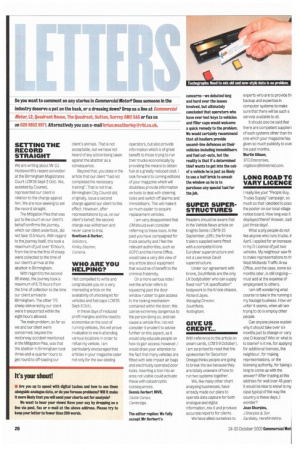 Page 20, 24th October 2002 —
WHO ARE YOU HELPING?
Close
I felt compelled to write and congratulate you on a very interesting article on the availability of unlocking kit for vehicles and fuel caps (CM 26 Sept-3 Oct).
In these days of reduced profit margins and the need to economise on the cost of running vehicles, this will prove invaluable to me in attending various locations in order to refuel my vehicle. I am particularly encouraged that articles in your magazine cater not only for the law-abiding operators, but also provide information which is of great benefit to those trying to run their trucks economically by providing the means to obtain fuel at a greatly reduced cost. I look forward to coming editions of your magazine which will doubtless provide information on tools to deal with steering locks and switch off alarms and immobilisers. This will make it so much easier to acquire replacement vehicles.
I am very disappointed that CMshould even consider referring to these tools. In the past you have campaigned for truck security and I feel the relevant authorities, such as ACPO and the Home Office, would take a very dim view of any article about equipment that would be of benefit to the criminal fraternity.
On a more serious note I see the article refers to squeezing past the door window rubber to gain access to the locking mechanism contained within the door; this can be extremely dangerous to the person doing so, and can cause a vehicle fire, I do not consider it prudent to advise further on this aspect, as it would only educate people on how to gain access: however, I would draw your attention to the fact that many vehicles are fitted with side impact air bags and electrically operated door locks. Inserting a tool into an area not visible could activate these with catastrophic consequences.
Dennis Herbert Min, Castle Camps, Cambridge.
The editor replies: We fully accept Mr Herbert's concerns—we debated long and hard over the issues involved, but ultimately concluded that operators who have over lost keys to vehicles and filler caps would welcome a quick remedy to the problem. We would certainly recommend that all hauliers provide second-line defences on their vehicles including immobilisers and fuel cut-outs, but the reality is that If a determined thief wants to get into the cab of a vehicle he is just as likely to use a half brick to smasti the window as he is to purchase any special tool for the job.