LONG ROAD TO VARY LICENCE
24th October 2002
Page 20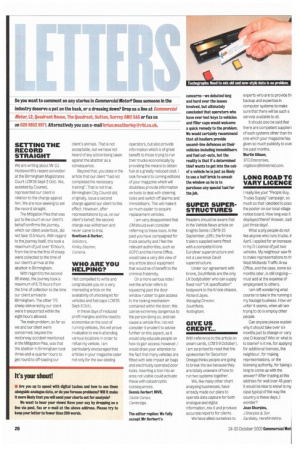 Page 20, 24th October 2002 —
LONG ROAD TO VARY LICENCE
Close
I really like your "People Buy, Trucks Supply" campaign, so much so that I decided to piaci the poster on our local village notice board. How long was it displayed there? Answer, sadl just three days!
What a pity people do not like anyone who runs trucks. k April. I applied for an increase in my 0-Licence of just two vehicles. My neighbour saw fit to make representations to th West Midlands Traffic Area Office, and the case, some six months later, is still ongoing— must add at the expense of employment to others.
lam left wondering what course to take in the running o my haulage business. How ver unfair it seems, when all I am trying to do is employ other people.
Can anyone please explain why it should take over six months just to change or vary one 0-licence? Who or what is to blame? is it me, for applying for additional licences, the neighbour, for making representations, or the licensing authority, for taking E long to come up with the answer? After trading at this address for well over 45 year: it would be nice to know) Is my case typical of the way the country is these days, I wonder?
Jean Sharnles, J Sharpies & Son Eardisley, Herefordshire.