Why Not Become a Commercial-vehicle Salesman?
24th November 1944
Page 25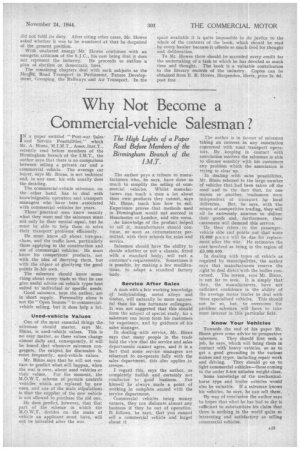 Page 25, 24th November 1944 —
Why Not Become a Commercial-vehicle Salesman?
Close
The High Lights of a Paper Read Before Members of the Birmingham Branch of the 1.M. T.
I N a paper entitled " Post-war Sales and Service Possibilities," which Mr. A. Binns, M.I.M.T., Assoc.Inst.T., recently read before members of the Birmingham branch of the I.M.T., the author says that there is no comparison between selling a private car and a commercial vehicle. The average car buyer, says Mr. Binns, is not technical and, in any case, his wife usually does the deciding.
The commercial-vehicle salesman, on the • other hand, has to deal with knowledgeable operators and transport managers who have been .associated with commercial vehicles for years.
These practical men know exactly what they want and the salesman must not only be their mental equal, but he must be able to help them to solve their transport problems efficiently.
lie must know all about hire-purchase, and the traffic laws, particularly those applying to the construction and use of commerc.ial vehicles. He must know his competitors' products, not with the idea of decrying them, but with the object of glorifying the good points in.his own.
The salesman should know something about every trade so that he can give useful advice on vehicle types best suited to individual or specific needs.
Good salesmen, says the author, are in short supply. Personality alone is not the "Open Sesame" to commercialvehicle selling, but it does help a lot.
Used-vehicle Values
One of the most essential things the salesman should master, says Mr. }linos, is used-vehicle values. This is no easy matter, as these values change almost daily and, consequently, it will be found that wherever salesmen congregate, the subject for discussion is, Most frequently, used-vehicle values.
Mr. Binns.says that he will not venture to predict what will happen, when the war is over, about used vehicles or their values. For the moment, the 141.0.W.T. scheme of permits controls vehicles which are replaced by new ones, and one of the main stipulations is that the supplier of the new vehicle is not allowed to purchase the old one.
He does predict, however, that that part of the scheme in which the M.O.W.T. decides on the make of vehicle an applicant must have, will not be tolerated after the war.
The author pays a tribute to manufacturers who, he says, have done so much to simplify the selling of commercial vehicles. Whilst manufacturers can teach a man a lot about their own products they cannot, says Mr. Binns, teach him how to sell. Experience proves that methods used in Birmingham would not succeed in Manchester or London, and vice versa.
As knowledge of the product helped to sell it, manufacturers should continue, so soon as circumstances permitted, with their schools for sales and service.
Salesmen should have the ability to decide whether or not a chassis, fitted with a standard body, will suit a customer's requirements. Sometimes it is possible, by making a few modifications, to adapt a standard factory body.
Service After Sales
A man with a fair working knowledge of bodybuilding, metal alloys and timber, will naturally be more successful than his less fortunate colleagues. It was not suggested that this should form the subject of special study, for a salesman can learn from his customers by experience, and by guidance of his sales manager.
In dealing • with service, Mr. Binns says that many people in the trade hold the view that the service and sales departments cannot agree. and it is a fact that some service managers are reluctant to co-operate fully with the sales department, this also applies in reverse.
I regard this, says the author, as completely foolish and certainly not conducive to good business. For himself he always made a point of working in complete accord with the service department.
Commercial vehicles being money earners, they can dislocate almost any business if they be out of operation. It follows, he says, that you cannot sell a commercial vehicle and forget about it
The author is in favour of salesmen taking an interest in any association concerned with road transport operators. By keeping in contact with association matters the salesman is able to discuss sensibly with his customers any problem which the association is trying to clear up.
In dealing with sales possibilities, Mr. Binns referred to the large number of vehicles that had been taken off the road and to the fact that, for one reason or another, tradesmen were independent of transport fur local deliveries. But, he says, with the return of competitive trading, they will all be extremely anxious to deliver their goods and, furthermore, their customers will demand this service.
He then refers to the passengervehicle side and points out that some 15,000 p.s.v.s will be due for replacement after the war. He estimates the cost involved as being in the region of £3,000,000.
In dealing with types of vehicle as required by municipalities, the author says that manufacturers reserve the right to deal direct with the bodies concerned. The reason, says Mr. Binns, is not far to seek. It is simply that they, the manufacturers, have not sufficient confidence in the ability of the average motor trader to deal with these specialised vehicles. This should not be so, but, to overcome the problem salesmen will have to take more interest in this particular field.
' Know Your Vehicles Towards the end of his paper Mr. Binns gives some advice to prospective salesmen. They should first seek a job, he says, w.hich will bring them in contact with heavy vehicles, so as to get a good grounding in the various makes and types, including repair work and driving. They should go on to light commercial vehicles--those coming in the under 3-ton unladen weight class.
Some knowledge of the mechanicalhorse type and trailer vehicles would also be valuable. If a salesman knows his vehicles, he says, he can sell them.
By way of conclusion the author says he hopes that what he has had to shy is sufficient to substantiate his claim that there is nothing in the world quite so interesting and satisfactory as selling commercial vehicles.