One Hears
24th November 1944
Page 15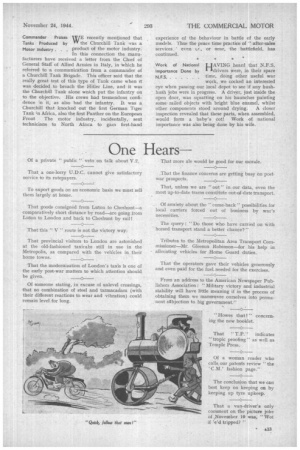 Page 15, 24th November 1944 —
One Hears
Close
Of a private " public " veto on talk about V.2.
That a one-lorry U.D.C. cannot give satisfactory service to its ratepayers.
To export goods on an economic basis we must sell them largely at home.
That goods consigned from Luton to Cheshunt—a comparatively short distance by road—are going from Luton to London and back to Cheshunt by rail !
That this " V " route is not the victory way: That provincial visitors to London are astonished at the old-fashioned taxicabs still in use in the Metropolis, as compared with the vehicles in their home towns. 0 That the modernization of London's taxis is one of the early post-war matters to which attention should be given. 0 Of someone stating, in excuse of unlevel crossings, that no combination of steel and tarmacadam (with their different reactions to wear and vibration) could remain level for long. That more ale would be good for our morale.
,That the finance concerns are getting busy on post war prospects. 0 That, unless we are " out " in our data, even the most up-to-date trams constitute out-of-date transport.
Of anxiety about the " come-back " possibilities for local carriers forced out of business by war's necessities. 0 The query : "Do those who have carried on With horsed transport stand a better chance?"
Tributes to the Metropolitan Area Transport Commissioner—Mr. Gleeson Robinson—for his help in allocating vehicles for Home Guard duties.
That the operators gave their vehicles generously and even paid for the fuel. needed for the exercises.
From an address to the American Newspaper Publishers Association : "Military victory and industrial stability will have little meaning if in the process of obtaining them we maneeuvre ourselves into permanent silbjection to big government."
"Howes that!" concerning the new booklet.
That " T.P." indicates "tropic proofing" as well as Temple Press.
Of a woman reader who calls, our patents review "the C.M.' fashion page."
The conclusion that we can best keep on keeping on by keeping up tyre upkeep.
That a van-driver's only comment on the picture joke of November 10 was, "Wot if 'e'd tripped? "