Alterations to Thames bridges
24th March 1972
Page 18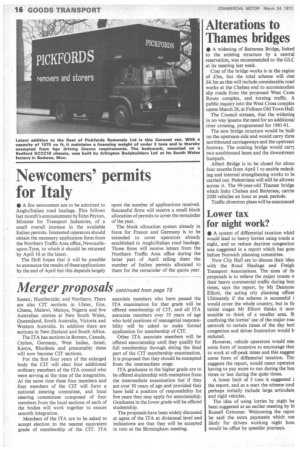 Page 18, 24th March 1972 —
Alterations to Thames bridges
Close
• A widening of Battersea Bridge, linked to the existing structure by a central reservation, was recommended to the GLC at its meeting last week.
Cost of the bridge works is in the region of £3m, but the total scheme will cost £4.3m as this will include considerable road works at the Chelsea end to accommodate slip roads from the proposed West Cross Route complex, and turning traffic. A public inquiry into the West Cross complex opens March 28, at Fulham Old Town Hall.
The Council stresses, that the widening in no way lessens the need for an additional river crossing, programmed for 1981-91.
The new bridge structure would be buil1 on the upstream side and would carry three northbound carriageways and the upstrearr footway. The existing bridge would carry two southbound lanes and the downstrearr footpath.
Albert Bridge is to be closed for aboui four months from April 1 to enable redeck. ing and internal strengthening works to be carried out. Pedestrians will still be allowec across it. The 99-year-old Thames bridge which links Chelsea and Battersea, carrie; 2100 vehicles an hour at peak periods.
Traffic diversion plans will be announced