Powertronic for F1.10s
24th February 1994
Page 11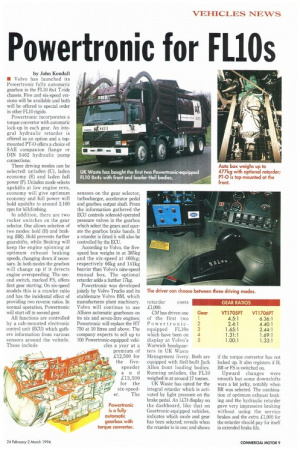 Page 11, 24th February 1994 —
Powertronic for F1.10s
Close
by John Kendall • Volvo has launched its Powertronic fully automatic gearbox in the FL10 8x4 T-ride chassis. Five and six-speed versions will be available and both will be offered to special order in other FL10 rigids.
Powertronic incorporates a torque convertor with automatic lock-up in each gear. An integral hydraulic retarder is offered as an option and a topmounted PT-0 offers a choice of SAE companion flange or DIN 5462 hydraulic pump connections.
Three driving modes can be selected: unladen (U), laden economy (E) and laden full power (F). Unladen mode selects upshifts at low engine revs, economy will give optimum economy and full power will hold upshifts to around 2,100 rpm for hilldimbing.
In addition, there are two rocker switches on the gear selector. One allows selection of two modes: hold (H) and braking (BR). Hold prevents further gearshifts, while Braking will keep the engine spinning at optimum exhaust braking speeds, changing down if necessary. In both modes the gearbox will change up if it detects engine overspeeding. The second switch, marked FS, offers first gear starting. On six-speed models this is a crawler ratio and has the incidental effect of providing two reverse ratios. In normal operation, Powertronic will start off in second gear.
All functions are controlled by a cab-mounted electronic control unit (ECU) which gathers information from various sensors around the vehicle. These include sensors on the gear selector, turbocharger, accelerator pedal and gearbox output shaft. From the information gathered the ECU controls solenoid-operated pressure valves in the gearbox which select the gears and operate the gearbox brake bands. If a retarder is fitted it will also be controlled by the ECU.
According to Volvo, the fivespeed box weighs in at 385kg and the six-speed at 460kg; respectively 66kg and 141kg heavier than Volvo's nine-speed manual box. The optional retarder adds a further 17kg.
Powertronic was developed jointly by Volvo Trucks and its stablemate Volvo BM, which manufactures plant machinery. Volvo will continue to use Allison automatic gearboxes on its six and seven-litre engines; Powertronic will replace the HT 750 at 10 litres and above. The company expects to sell up to 100 Powertronic-equipped vehi cles a year at a premium of _
£12,500 for the fivespeeder and £13,500 for the six-speed
er. The retarder costs £1,000.
CM has driven one Gear of the first two 1 Powertronic2 equipped FL1Os 3 which have been on 4 display at Volvo's 5
Warwick headquar ters in UK Waste Management livery. Both are equipped with Heil-built Jack Allen front loading bodies. Running unladen, the FL10 weighed in at around 17 tonnes.
UK Waste has opted for the integral retarder which is activated by light pressure on the brake pedal. An LCD display on the dashboard, like that on Geartronic-equipped vehicles, indicates which mode and gear has been selected; reveals when the retarder is in use; and shows if the torque convertor has not locked up. It also registers if H, BR or FS is switched on.
Upward changes were smooth but some downshifts were a bit jerky, notably when BR was selected. The combination of optimum exhaust braking and the hydraulic retarder gave very impressive braking without using the service brakes and the extra £1,000 for the retarder should pay for itself in extended brake life.