A NEW 2-TON BRITISH CHASSIS.
24th February 1925
Page 8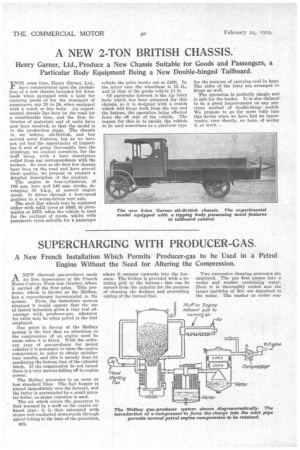 Page 8, 24th February 1925 —
A NEW 2-TON BRITISH CHASSIS.
Close
Henry Garner, Ltd., Produce a New Chassis Suitable for Goods and Passengers, a Particular Body Equipment Being a New Double-hinged Tailboard.
FOR some time, Henry Garner, Ltd., have concentrated upon the production of a new chassis intended for 2-ton loads when equipped with a body for carrying goods or for the transport of passengers, say 20 to 24, when equipped with a coach or bus body. An experimental chassis has been on the road for a considerable time, and the first deliveries of materials and of units have now been received, so that the model is in the production stage. The chassis is, we believe, all-British, and has several novel features, but as we have not yet had the opportunity of inspecting it and of going thoroughly into the drawings, we content ourselves, for the timf being, with a bare description culled from our correspondence with the makers. So soon as the first few chassis have been on the road and have proved their quality, we propose to prepare a detailed description of the product.
The engine is four-cylindered, of 100 mm. bore and 140 mm. stroke, developing 33 b.h.p. at normal engine speed. It drives through a four-speed gearbox to a worm-driven rear axle.
The steel disc wheels may be equipped either with solid tyres at f445, Or pneumatics at £475, when the vehicle is used for the carriage of goods, whilst with pneumatic tyres suitable for a passenger vehicle the price works out at 1490. In the latter case the wheelbase is 12 ft., and in that of the goods vehicle 11 ft.
Of particular interest is the tip lorry body which has been prepared for this chassis, as it is designed with a crotch which will hinge both from the top and the bottom, the operation being effected from the off side of the vehicle. The reason for this is to enable the vehicle to be used sometimes as a platform type for the purpose of carrying coal in bags. The sides of the lorry are arranged to hinge as well.
The operation is perfectly simple and is safe for the loader. It is also claimed to be a great improvement on any previous method of double-hinge crotch. We propose to go far more frilly into this device when we have had an opportunity, very Shortly, we hope, of seeing it at work. .