OPINIONS FROM OTHERS.
24th February 1925
Page 27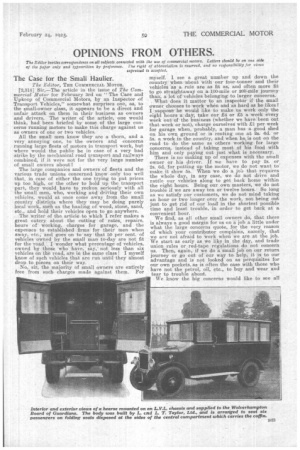 Page 28
Page 27, 24th February 1925 —
OPINIONS FROM OTHERS.
Close
The Editor invites correspondence on all subjects connected with the use of commercial motors, Letters should be on one side of the paper only and typewritten by preference. The right of abbreviation is reserved, and no responsibility for Vie,t4JS
expressed is accepted.
The Case for the Small Haulier,
The Editor, THE COMbIERCIAL MOTOR.
[2,314] Sir,—The article in the issue of The Commercial Motor for February 3rd on "The Care and Upkeep of Commercial Motors, by an Inspector of Transport Vehicles," somewhat surprises one, as, to the small-owner class, it appears to be a direct and unfair attack on them in their business as owners and drivers. The writer of the article, one would think, had been briefed by some of the large concerns running motors to make this charge against us as owners of one or two vehicles.
All the small men know they are a thorn, and a very. annoying one, to the owners and concerns running large fleets of motors in transport work, but where would the public be in case of a very bad .strike by the mechanical road transport and railways combined, if it were not for the very large number of small owners about'?
The large companies and owners of fleets and the various trade unions concerned know only too, well that, in case of either the one trying to put prices up too high, or the other to hold up the transport part, they would have to reckon seriously with all the small men, who, working and driving their own yelnieles, would at once come away from the small pountry districts where they may be doing purely local work; such as the hauling of wood, stone, sand, etc., and hold their vehicles open to go anywhere.
The writer of the article to whIch I refer makes a great outcry about the cutting of rates, repairs, hours of working, charges for garage, and the expenses to established firms for their' men when away, etc., and goes on to say that 50 per cent. of vehicles owned by the small man to-day are not fit for the -road. I wonder what percentage of vehicles, owned by those who:have, say,. not less than six vehicles on the road, are in the same class ! I myself know of such vehicles that are run until they almost drop to pieces on their way. . No, sir, -the majority of small owners are entirely free from such charges made against them. For
myself. I see a great number up and down the country when 'about with our four-tonner and their vehicles as a rule are as fit as, and often more fit to go straightaway on a 1.00-mile or 200-mile journey than, a lot of vehicles belonging to larger concerns. . What doe's it matter to an inspector if the small owner chooses to work when and a's hard as he likes ?
I suppoo he would like to make us work only the eight hours a day, take our E4 or 25 a week every week Out of the business (whether we have been out
that week or not), charge ourselves with .E1 per week
for garage when, probably, a man has a good shed on his own ground -or is renting one at 2s. 6d. or
5s. a week in the country, and when he, is out on the road to do the same as others working for large concerns, instead of taking most of his food with him and only paying out just what is necessary. There is no making up of expenses with the small owner or his driver. If we have to pay 2s. or 2s. 6d. for putting up the motor, we do not want to make it show 5s. When we do a job that requires the whole day, in any case, we do not drive and rattle our vehicles along to get back home within the eight hours. Being our own masters, we do not trouble if we are away ten or twelve hours. So long
as we satisfy our customers, we do not mind taking an hour or two longer over the work, not being out just to get rid of our loadin the shortest possible time and least trouble, in order to get back at a convenient hour.
We find, as all other small owners do, that there is always a good margin for us on a job a little under what the large concerns quote, for the very reasoi of which your contributor complains, namely, that we are not afraid to work when we are at the job.
We start as early as we like in the day, and trade union rules or red-tape regulations do not concern us. Then, again, if we do a small job on our return journey or go out of our way to help, it is to our advantage and is not looked on as perquisites for our own pockets, as is often the case with those who have not the petrol, oil, etc., to buy and wear and tear to trouble about.
We know the big concerns would like to see all
the small owner-drivers put out of commission. They have felt the effect greatly this last few years, and will do so still more, as those owners who at first purchased an ex-W.D. lorry or otherwise secondhand vehicle go in (as a lot are now doing) for a new vehicle. The writer's vehicle was a new fourtonner purchased in September, 1920, at a cost of 212180, at the rate of 2250 paid down, the vehicle being paid for by December, 1921, purely out of the earnings of it, besides insurance, etc., and wages, but this was, I can assure you, not done by working only eight hours a day or 51 days a week, but by going all out for work at any time and anywhere, -but I am "pleased to say the vehicle has never been on the road on Sundays, and whenever possible it has been kept in on a Saturday afternoon.
This vehicle has never hung us up or required help on the road. We have had it thoroughly overhauled once by the makers, and, at present, it is running as well as any vehicle on the road and is fit for any journey, which statement applies, so far as I know, to those vehicles that belong to the majority of owner-drivers, who know full well that their living absolutely depends on their keeping the vehicle fit and shipshape for its work.
There are a large number of supporters for your journal amongst the small men and drivers, and I am glad to notice that, editorially, you do not altogether associate yourselves with the view of the writer of the article.
Liphook. A liVORKING OWNER.
The Editor, THE COMMERCIAL MOTOR.
[2315] Sir,—Being an owner-driver of a lorry which I look after, as it should be, at the week-ends, and which has never once failed to do its day's job, I thought the writer of the article in your paper (which I read every week) did not give credit where it. is due, for I think there are more one-lorry owners who are careful than otherwise. Only this morning a lorry driver following me up closely ran into my tailboard and spoilt the look of his radiator. He admitted that his brakes were bad and said his governor would not let him put the machine in dock. That's the sort of person to be gone for.—Yours
faithfully, A TRENT DRIVER. Nottingham.