StANDING, BUT NOT PLYING FOR HIRE.
24th February 1925
Page 22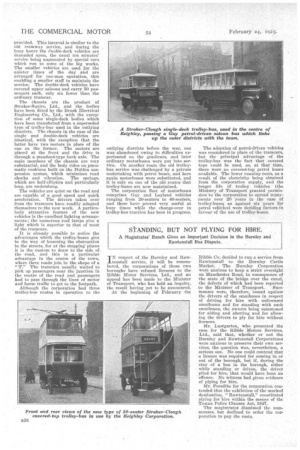 Page 22, 24th February 1925 —
StANDING, BUT NOT PLYING FOR HIRE.
Close
A Magistrates' Bench Gives an Important Decision in the Burnley and Rawtenstall Bus Dispute.
TN respect of the Burnley and Rawitenstall service, it will be remembered, the corporations of those two boroughs have refused licences to the Ilibble Motor Services, Ltd., and an appeal has been made to the Minister of Transport, who has held an inquiry, the result having yet to be announced.
At the beginning of February the
Ribble Co. decided to run a service from Rawtenstall to the Burnley Cattle Market. The Burnley Corporation were anxious to keep a strict oversight on Manchester Road, in consequence of the state of the bridge over the canal, the defects of which had been reported to the Minister of Transport. Sun-II-1101MS were, therefore, issued against the drivers of the omnibuses in respect of driving for hire with unlicensed omnibuses and for standing with such omnibuses, the owners being summoned for aiding and abetting and for allowing the drivers to ply for hire without licences.
Mr. Lustgarten, who presented the ease for the Ribble Motors Services, Ltd., said that, whether or not the Burnley and Rawtenstall Corporations were anxious to preserve their own services, the question was, nevertheless, a serious one. No one could contend that a licence was required for coming in or out of the borough, but if, during the stay of a bus in the borough, either while standing or driven, the driver plied for hire, that would have been an offence. No witness had given evidence of plying for hire.
Mr. Forsdike for the corporation contended that the exhibition of the marked destination, " Rawtenstall," constituted plying for hire within the means of the Towns Police Clauses Act, 1847.
The magistrates dismissed the summonses, but declined to order the corporation to pay the costs.