FINAL DEATH OF LORRY ROUTES'
24th December 1976
Page 13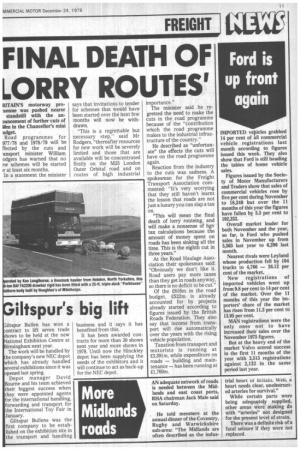 Page 13, 24th December 1976 —
FINAL DEATH OF LORRY ROUTES'
Close
RITAIN'S motorway pro.amme was pushed nearer standstill with the anouncement of further cuts of Inn in the Chancellor's mini udget.
Road programmes for 977/78 and 1978/79 will be Ffected by the cuts and .ansport minister William odgers has warned that no ?w schemes will be started or at least six months.
In a statement the minister says that invitations to tender for schemes that would have been started over the next few months will now be withdrawn.
"This is a regrettable but necessary step," said Mr Rodgers, "thereafter resources for new work will be severely limited and those that are available will be concentrated firstly on the M25 London Outer Orbital road and on routes of high industrial importance."
The minister said he regretted the need to make the cuts in the road programme because of the "contribution which the road programme makes to the industrial infrastructure of the country."
He described as "unfortunate" the effects the cuts will have on the road programme again.
Reaction from the industry to the cuts was sadness. A spokesman for the Freight Transport Association com mented: "It's very worrying that they still haven't learnt the lesson that roads are not just a luxury you can slap a tax on.
"This will mean the final death of lorry roUteing, and will make a nonsense of hgv tax calculations because the amount of money spent on roads has been sinking all the time. This is the eighth cut in three years."
At the Road Haulage Association their spokesman said: "Obviously we don't like it.
Road users pay more taxes than they get in roads anyway, so there is no deficit to be cut."
Of the £816m in the road budget, £522m is already accounted for by projects already started according to figures issued by the British Roads Federation. They also say that income from transport will rise automatically over the years with the rising vehicle population.
Taxation from transport and motorists is running at £3,391m, while expenditure on roads — building and maintenance — has been running at £1,760m.