Seddon/Atkinson on the way up
24th December 1971
Page 16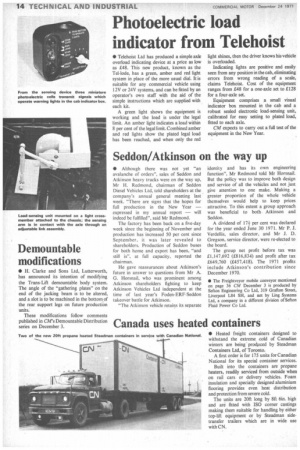 Page 16, 24th December 1971 —
Seddon/Atkinson on the way up
Close
• Although there was not yet "an avalanche of orders", sales of Seddon and Atkinson heavy trucks were on the way up, Mr H. Redmond, chairman of Seddon Diesel Vehicles Ltd, told shareholders at the company's annual general meeting last week. "There are signs that the hopes for full production in the New Year — expressed in my annual report — will indeed be fulfilled", said Mr Redmond.
The factory has been back on a five-day week since the beginning of November and production has increased 50 per cent since September, it was later revealed to shareholders. Production of Seddon buses for both home and export has been, "and still is", at full capacity, reported the chairman.
He gave reassurances about Atkinson's future in answer to questions from Mr A. G. Horsnail. who was prominent among Atkinson shareholders fighting to keep Atkinson Vehicles Ltd independent at the time of last year's Foden-ERF-Seddon takeover battle for Atkinson.
"The Atkinson vehicle retains its separate identity and has its own engineering function", Mr Redmond told Mr Horsnail. But the policy was to improve both design and service of all the vehicles and not just give attention to one make. Making a greater proportion of the whole vehicle themselves would help to keep prices attractive. To this extent a group approach was beneficial to bothAtkinson and Seddon.
A dividend of 17+ per cent was declared for the year ended June 30 197L Mr P. J. Verdellis, sales director, and Mr J. D. Gregson, service director, were re-elected to the board.
The group net profit before tax was £1,147,692 (£816,834) and profit after tax £649,760 (£457,418). The 1971 profits include Atkinson's contribution since December 1970.
• The Freightveyor mobile conveyor mentioned on page 36 CM December 3 is produced by Sefton Engineering Co Ltd, 319 Grafton Street, Liverpool L84 SH, and not by Ling Systems Ltd, a company in a different division of Sefton Fluid Power Co Ltd.