STEAM WAGONS IN S. AUSTRALIA.
24th December 1914
Page 16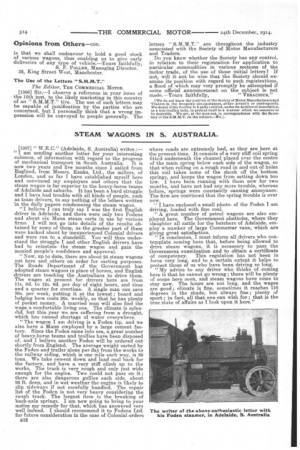 Page 16, 24th December 1914 —
STEAM WAGONS IN S. AUSTRALIA.
Close
[1387] " W.E.C." (Adelaide, S. Australia) writes :— "I am sending another letter for your interesting columns, of information with regard to the progress of mechanical transport in South Australia. It is now two years and five months since I sailed from England, from Messrs. Ranks, Ltd., the millers, of London, and so far I have established myself here and convinced my employers and others that the steam wagon is far superior to the heavy-horse teams of Adelaide and suburbs. It has been a hard struggle and I have had trouble with all kinds of people, such as team drivers, to say nothing of the letters written in the daily papers condemning the steam wagon. "I believe I can truly say I was the first English driver in Adelaide, and there were only two Fodens and about six Mann steam carts in use by various firms. I will not go into details of the results obtained by some of them, as the greater part of them were hacked about by inexperienced Colonial drivers and were run to a standstill. You will thus understand the struggle I and other English drivers have had to reinstate the steam wagon and gain the monied people's confidence and approval.
"Now, up to date, there are about 24 steam wagons out here and others on order for carting purposes. The Roads Department of the Government has adopted steam wagons in place of horses, and English drivers are teaching the Australians to drive them. The wages at present for drivers here are from us. 6d. to 12s. 6d, per day of eight hours, and time and a quarter for overtime. A single man can save 30s. per week, putting it at the lowest ; board and lodging here costs 20s. weekly, so that he has plenty of pocket money. A married man will also find the wage a comfortable living one. The climate is splendid, but this year we are suffering from a drought, which has caused shortage of water everywhere.
"The wagon I am driving is a Foden tip, and we also have a Mann employed by a large cement factory. Since the Foden came into use, a. great number of heavy-horse teams and trollies have been disposed of, and I believe another Foden will be ordered out shortly from England. The average weight carted by the Foden and trailer alone per day from the works to the railway siding, which is one mile each way, is 80 tons. We take cement down and load coal back for the factory, and have a very stiff climb up to the works. The track is very rough and only just wide enough for the engine. Two could not pass on it ; there are also dangerous gullies each side, about '20 ft. deep, and in 'wet weather the engine is likely to slip sideways if not carefully handled. The repair list of the Foden is not very heavy considering the rough track. The largest item is the breaking of back-axle springs. I am now going to bring to your notice my remedy for that, which has answered very well indeed. I should recommend it to Fodens Ltd. for future consideration in the case of Colonial orders
where roads are extremely bad, as they are here at the present time. It consists of a very stiff coil spring fitted underneath the channel placed over the centre of the main spring below each side of the wagon, so that when rolling on a rough road in and out of holes this coil takes some of the shock off the bottom springs, and keeps the wagon from setting down too low. I have been running with them now for two months, and have not had any more trouble, whereas before, springs were constantly causing annoyance. The firm are convinced that the spring trouble is over now.
" I have enclosed a. small photo. of the Foden I am driving, loaded with fine coal.
"A great number of petrol wagons are also employed here. The Government abattoirs, where they slaughter all cattle for the butchers of Adelaide, employ a number of large Commercar vans, which are giving great satisfaction.
"In conclusion, I must inform all drivers who contemplate coming here that, before being allowed to drive steam wagons, it is necessary to pass the Government examination and to obtain a certificate of competency. This regulation has not been in force very long, and to a certain extent it helps to protect those of us who have been driving so long.
"My advice to any driver who thinks of. coming here is that he cannot go wrong; there will be plenty of scope here soon, and steam wagons have come to stay now. The hours are not long, and the wages are good ; climate is fine, sometimes it reaches 110 degrees in the shade, but always fine ; plenty of sport ; in fad, all that one can wish for ; that is the true state of affairs as I look upon it here."