OPINIONS FROM OTHERS.
24th December 1914
Page 15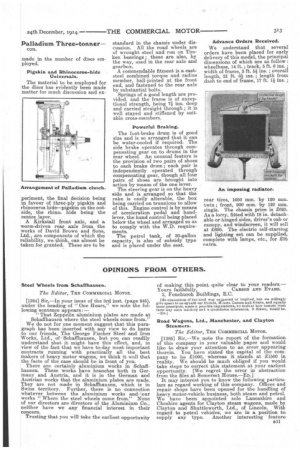 Page 16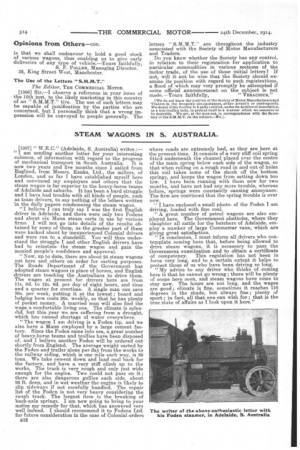 Page 15, 24th December 1914 —
OPINIONS FROM OTHERS.
Close
Steel Wheels from Schaffhausen.
The Editor, THE COMMERCIAL MOTOR.
[1384] Sir,—In your issue of the 3rd inst. (page 245), under the heading of "One Hears," we note the following sentence appears :—
That Zeppelin aluminium plates are made at Schaffhausen where the steel wheels tome from." We do not for one moment suggest that this paragraph has been inserted with any view to do harm to our friends, The George Fischer Steel and Iron Works, Ltd.' of Schaffhausen, but you can readily understand that it might have this effect, and, in view of the fact that we have to-day most important contracts running with practically all the best makers of heavy motor wagons, we think it well that the facts of the case should be in front of you.
There are certainly aluminium works in Schaffhausen. These works have branches both in Germany and. Austria, and it is in the German and Austrian works that the aluminium plates are made. They are not made in Schaffhausen, which is in Swiss territory. Further, there is no connection whatever between the aluminium works and our works "Where the steel wheels come from." None of our directors are directors of the Aluminium Co., neither have we any financial interest in their concern.
Trusting that you will take the earliest opportunity
of making this point quite clear to your readers.—
Yours faithfully, CARSON AND EVANS. 3, Fenchurch Buildings, E.C.
[So connection of the kind wss suggested or implied, but we willinglygive space to sa.eguard our friends, 3,1 issra. Carson and Evans, and equally their principlis, equini6 possible impataGions, no matter how remote from faets any such unlikely ant n ijustitisble inferences, if drawn, would be —En.] Road Wagons, Ltd., Manchester, and Clayton Steamers.
The Editor, TEE COMMERCIAL MOTOR.
[1385] Sir,—We note the report of the formation of this company in your valuable paper and would like to draw your attention to an error appearing therein. You have stated the capital of the company to be 21000, whereas it stands at £1500 in reality. We should be much obliged if you would take steps to correct this statement at your earliest opportunity. [We regret the error in abstraction from the files at Somerset House.—End
It may interest you to know the following particulars as regard working of this company. Offices and repair shops have been opened for the handling of heavy motor-vehicle business, both steam and petrol. We have been appointed sole Lancashire and Cheshire agents for Clayton steam wagons, made by Clayton and Shuttleworth, Ltd.., of Lincoln. With regard to petrol vehicles, we are in a position to supply any type. Another interesting feature is that we shall endeavour to hold a good stock of various wagons, thus enabling us to give early deliveries of any type of vehiele.—Yours faithfully, S. F. POLLEN, Managing Director. 32, King Street West, Manchester.
The Use of the Letters " The Editor, THE COMMERCIAL MOTOR.
[1386] Sir,—I observe a reference in your issue of the 10th insL to the likely marketing in this country of an" S.M.M.T." tire. The use of such letters may be capable of justification by the parties who are concerned, but I personally think that a wrong impression will be conveyed to people generally. The letters " S.M.M.T." are throughout the industry associated with the Society of Motor Manufacturers and Traders.
Do you know whether the Society has any control, in relation to their registration for application to particular commodities in various sections of the mdtor trade, of the use of those initial letters ? If not, will it not be wise that the Society should examine its position with regard to such registrations, a flood of which may very promptly be attempted if some official announcement on the subject Is not
made.—Yours faithfully, " VERACIOUS."
[We do not know the position of the Society of Motor Manufacture's and Traders in the foregoing circumstances, either actually or contingently. We doubt if the Society is le-gaily entit]ed, under its Articles of Associaticn, BR a nomtrading body, to protect itself in a manner which we conceive to he desirable. We axe, at the moment, in correspondence with the Secretary of the B.M.M.T. on the subject.—En.].