A NON-DAZZLE LAMP FOR COUNTRY BUSES.
24th April 1923
Page 9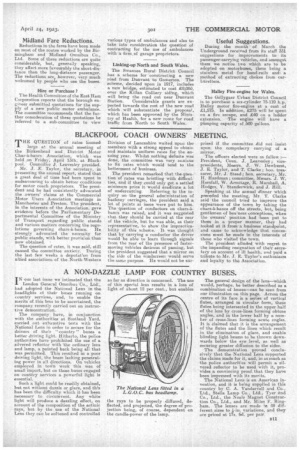 Page 9, 24th April 1923 —
A NON-DAZZLE LAMP FOR COUNTRY BUSES.
Close
IN our last issue we intimated that the London General Omnibus Co., Ltd., had adopted the National Lens in the headlights of their buses running on country services, and, to 'enable the merits of this tens to be ascertained, the company recently carried out an instructive demonstration.
The company have, in conjunction with the authorities at Scotland Yard, carried out exhaustive tests with the National Lens in order to secure for the drivers of their "country" buses a better driving light. Hitherto, the police authorities have prohibited the use of a silvered reflector with -the ordinary lens and lamp, a painted back being all that was permitted. This resulted in a poor driving light, the beam lacking penetrating power in all directions. On vehicles employed in town work this was of small import, but on those buses engaged on couittry services a powerful light is essential.
Such a light could be readily obtained, but not without dazzle or glare, and this has been the difficulty which it has been necessary to circumvent. Any white light will produce a dazzling effect, on account of the composition of the actinic rays, but by the use of the National Lens they can be softened and controlled
an far as direction is concerned. The use of this special lens results in a loss of light of about 12 per cent., but enables the rays to be properly diffused, deflected, and projected, the degree of projection being, of course, dependent on the candle-power of the lamp.
The general design of he lens—which would, perhaps, be better described as a combination of lenses—can be seen from our illustration on this page. Across the centre of its face is a series of vertical flutes, arranged in circular form, these flutes being intersected in the upper half of the lens by cross-lines forming obtuse angles, and in the lower half by a number of cross-lines forming acute angles. It is claimed that it is the arrangement of the flutes and the lines which result in the elimination of glare, and enable blinding light beams to be thrown downwards below the eye level, as well as securing greater diffusion to the sides. The demonstration proved conclusively that, the National Lens supported the claims made for it, and, in as much as the police authorities will permit a silvered reflector to be used with it, provides a convincing proof, that they have been impressed with its merits. The National Lens is an American invention, and it is being supplied in this country by C. A. Vandervell and Co., Ltd., Stella Lamp Co., Ltd., Tyer And Co., Ltd., the Neale Magnet Construction Co., Ltd., and Mr. Miles F, Bingham. The lenses are made m 49 different, sizes to 1-in. variations, and they are priced at 17s, 6d. per pair.