ONE HEARS
24th April 1923
Page 3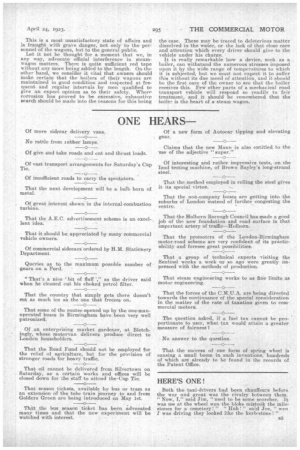 Page 3, 24th April 1923 —
ONE HEARS
Close
Of more sidecar delivery vans.
No rattle from rubber lamps.
Of give and take roads and cut and thrust loads.
Of vast transport arrangements for Saturday's Cup Tie.
Of insufficient roads to carry the spectators.
That the next development will be a bulb horn of metal.
Of great interest shown in the internal-combustion turbine.
That the A.E.C. advertisement scheme is an excellent idea.
That it should be appreciated by many commercial vehicle owners.
Of commercial sidecars ordered by H.M. Stationery Department.
Queries as to the maximum posstble number of gears on a Ford.
"That's a nice 'bit of fluff ' " as the driver said when he cleaned out his choked petrol filter.
That the country that simply gets there doesn't cut as much ice as the one that freezes on: That some of the routes opened up by the one-manoperated buses in Birmingham have been very well patronized.
Of an enterprising market gardener, at Bletehingly, whose motorvan delivers produce direct to London householders.
That the Road Fund should not be employed for the relief of agriculture, but for the provision of stronger roads for heavy traffic.
That oil cannot he delivered from Silvertown on Saturday, asa certain works and offices will be closed down for the staff to attend the-Cup Tie.
That season tiekets, available by bus or tram as an extension of the tube train journey to and from Golders Green are being introduced on May let.
That the bus season ticket has been advocated many times and that the new experiment will be Veatched with interest. Claims that the new Mann is also entitled to the Use of the adjective "super."
Of interesting and rather impressive tests, on the hod testing machine, of Brown Bayley's long-strand steel.
That the non-company buses are getting into the suburbs of London instead of further congesting the centre.
That the Holborn Borough Council has made a good job of the new foundation and road surface in that important artery of traffic—Holborn.
That the promoters of the London-Birmingham motor-road scheme are very confident of its practicability and foresee great possibilities.
That a group of technical experts visiting the Sentinel works a week or so ago were greatly impressed with the methods of production.
That steam engineering works to as fine limits as motor engineering.
That the forces of the C.M.U.A. are being directed towards the continuance of the special consideration in the matter of the rate of taxation given to commercial motors'.
The question asked, if a fuel tax cannot be proportionate to user, what tax would attain a greater measure of fairnest No answer to the question.
That the success of one form of spring wheel is causing a small boom in such inventions, hundreds of which are already to be found in the records of the Patent Office.