Holidays and Strike Hit Makers
23rd September 1955
Page 49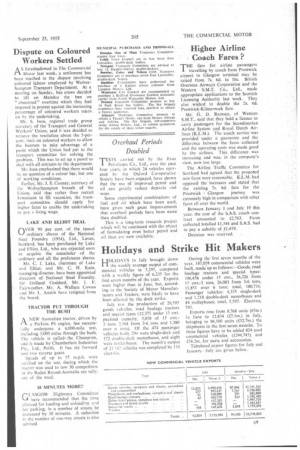 Page 49, 23rd September 1955 —
Holidays and Strike Hit Makers
Close
uOLID.AYS in July brought down the weekly average output of commercial vehicles to 5,295, compared with a weekly figure of 6,235. for the first seven months of the year. Exports were higher than in June, but, according to the Society of Motor Manufacturers and Traders, were likely to have been affected by the dock strike.
July saw the production of 20,597 goods vehicles, road haulage tractors and special types (12,375 under 15 cwt. payload capacity, 3,858 of 15 cwt.3 tons. 2,984 from 3-6 torts and 1,380 over 6 tons). Of the 474 passenger vehicles built, 294 were single-deck and 172 double-deck motorbuses, and eight were trolleyhuses. The month's output of 21 18.2 %chides was completed by 111 elect ries. During the first seven months of the year, 187,058 commercial vehicles were built, made up as follows:---Goods, road haulage tractors and special types: 106,456 under 15 cwt., 36,326 from 15 cwt.-3. tons, 26,083 from 3-6 tons, 11,851 over 6 tons; total, 180,716. Passenger vehicles: 4,335 single-deck and 1.218 double-deck motorbuses and 44 trolleybuses; total, 5,597. Electrics, 745.
Exports rose from 8,768 units (£.5m.) id June to 12,834 (7.1m.) in July, bringing to 94,100 units (£52.7m.) the shipments in the first seven months. To these figures have to be added 824 used commercial vehicles (£394,745) and £58.2m. for parts and accessories.
Tabulated export figures for July and January —July are given below.