Dispute on Coloured Workers Settled
23rd September 1955
Page 49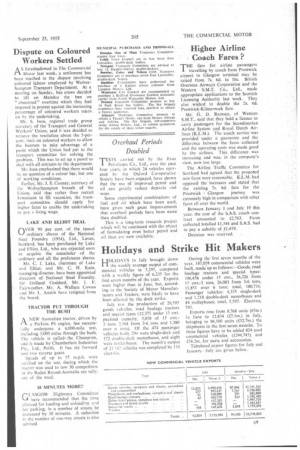 Page 49, 23rd September 1955 —
Dispute on Coloured Workers Settled
Close
AS foreshadowed in The Commercial Motor last week, a settlement has been reached in the dispute involving coloured labour employed by Wolverhampton Transport Department. At a meeting on Sunday, bus crews decided -to lift on Monday the ban on " abnormal " overtime which they had imposed in protest against the increasing percentage of 'coloured workers taken . on by the undertaking.
Mr. S. !son, regional trade group secretary of the Transport and General Workers' Union, said it was decided to remove the resolution about the 5-percent. limit on coloured workers to allow the busmen to take advantage of a point which the Union had put to the transport committee for solving the problem. This was to set up a panel. to deal with all entrants to the department.
Mr. Ison emphasized that there would be no question of a colour bar, but one of working conditions. • Earlier, Mr. J. E. Cooney, secretary of the Wolverhampton branch of the Union, Said that rather than _recruit Jamaicans to fill vacancies, the transport committee should apply for higher fares to enable the undertaking to pay a living wage.
LAKE AND ELLIOT DEAL (VTR 90 per cent, of the issued ordinary shares, of the National Steel Foundry (1914); Ltd., 'Leven, Scotland, has been purchased by Lake' and Elliot, Ltd., who are expected soon to acquire the remainder of the ordinary and all the preference shares.
Mr. C. J. Lake, chairman of Lake and Elliot, and .Mr. C.. H. !Cain, managing director, have been appointed directors of National Steel Foundry. Sir Holland Goddard, •Mr. J. F. Fairweather, Mr. A. Wallace Cowan and Mr. L. Austin have resigned from the board.
TRACTOR PUT THROUGH THE BUSH
A NEW Australian tractor, driven by a Perkins P4 engine, has successfully undergone a 6,000-mile test, including 3,000 miles through the bush. The vehicle is called. the Champion, and is made by Chamberlain Industries Pty., Ltd., Perth. It has six forward and two reverse gears.
Speeds of up to 55 m.p.h. were reached on the test, during which the a-actor was used to tow 30 competitors in the Redex Round-Australia car rally, out of the mud.
10 MINUTES MORE?
r_ I. ASGOW Highways Committee
have recommended that the time allowed for loading and unloading, and for parking, in a number of streets be increased by 10 minutes. A reduction in the number of one-way streets is also advised.