In a Line or Two
23rd September 1955
Page 48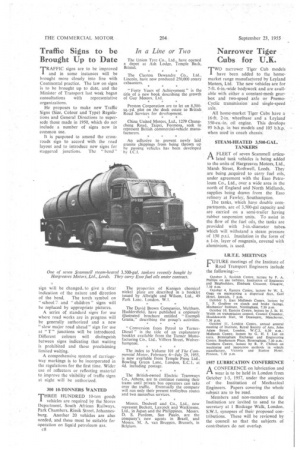 Page 48, 23rd September 1955 —
In a Line or Two
Close
The Union Tyre Co., Ltd., have opened a depot at Ash Lodge, Temple Back, Bristol.
The Clayton Dewandre Co.. Ltd., Lincoln, have now produced 250,000 rotary cxhausters.
"Forty Years of Achievement" is the title of a new book describing the growth of Guy Motors. Ltd.
Preston Corporation are to let an 8,500sq.-yd. plot on the dock estate to British Road Services for development.
China United Motors, Ltd., 1279 Chungcheng Road, Taipei, Formosa, seek to represent British commercial-vehicle manufacturers.
An adhesive to prevent newly laid granite chippings from being thrown up by passing vehicles has been developed by 1.C.1.
The properties of Kanigen chemical nickel plate are described in a booklet issued by Albright and Wilson, Ltd., 49 Park Lane, London, W.1.
The David Brown Companies, Meltham, Huddersfield, have published a copiously illustrated brochure entitled " Exempli Gratia," describing the group's activities.
"Conversion from Petrol to TurnerDiesel " is the title of an explanatory booklet available from the Turner Manufacturing Co., Ltd., Villiers Street, Wolverhampton.
The index to Volume 101 of The Commercial Motor, February 4—July 29, 1955, is now available from Temple Press Ltd., Bowling Green Lane, London, E.C.1, at 4d. including postage.
The British-owned Electric Tramways Co., Athens, are to continue running their trams until private bus operators can take over the traffic. Eventually the company will run only their present trolleybus routes and two motorbus services.
Messrs. Dodwell and Co., Ltd., now represent Beckett, Laycock and Watkinson, Ltd., in Japan and the Philippines. Messrs. D. S. Purdom, Sao Paulo, are the company's new agents in Brazil, and Messrs. M. A. van Bruggen, Brussels, in Belgium.