Four Changes by Rail : New Service ?
23rd September 1955
Page 47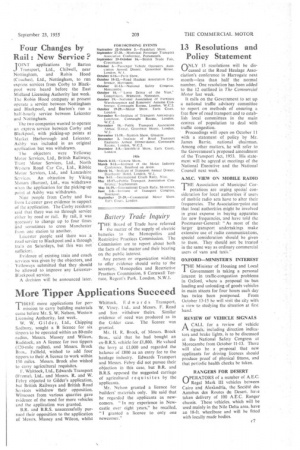 Page 47, 23rd September 1955 —
Four Changes by Rail : New Service ?
Close
TOINT applications by Barton ,J , Transport, Ltd., Chilwell, near Nottingham, and Robin Hood (Coaches), Ltd., Nottingham, to run express services from Corby to Blackpool were heard before the East Midland Licensing Authority last week. The Robin Hood company at present operate a service between Nottingham and Blackpool, and Barton's run a half-hourly service between Leicester and Nottingham.
The two companies wanted to operate an express service between Corby and Blackpool, with picking-up points at Market Harborough • and Leicester. Ashby was included in an original application but was withdrawn.
"lhe objectors were YellOway Motor Services, Ltd., British Railways, Trent Motor Services, Ltd., North Western Road Car Co., Ltd., Ribble Motor Services, Ltd., and Lancashire Services. An objection by Viking Motors (Burton), Ltd., was withdrawn when the application for the picking-up point at Ashby was withdrawn.
Nine people from Corby and five from Leicester gave evidence in support of the application. The Corby residents said that there was no through service either by road or rail. By rail, it was noccisiar■.;' to change up to four times and sometimes to cross Manchester from one station to another.
Leicester people said there was .a road service to Blackpool and a through train on Saturdays, but this was not sufficient.
Evidence of existing train and coach services was given by the objectors, and Yelloways submitted that they .should be allowed to improve any LeicesterBlackpool service.
A decision will be announced later.