13 Resolutions and Policy Statement
23rd September 1955
Page 47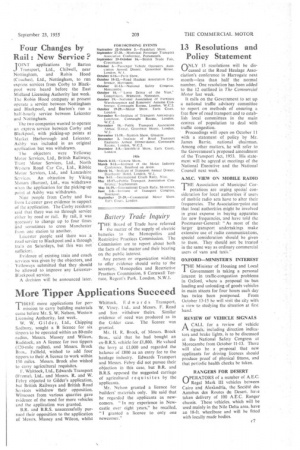 Page 47, 23rd September 1955 —
13 Resolutions and Policy Statement
Close
ONLY 13 resolutions will be discussed at the Road Haulage Association's conference in Harrogate next month—less than half the normal number. One resolution has been added to the 12 outlined in The Commercial Motor last week.
It calls on the Government to set up a national traffic advisory committee to report on methods of ensuring a free flow of road transport and to establish local committees in the main centres of population to deal with traffic congestion.
Proceedings will open on October 11 with a statement of policy by Mr. James Barrie, national chairman. Among other matters, he will refer to the Government's proposed amendment of the Transport Act, 1953. His statement will be agreed at meetings of the National Executive and the National Council next week.
A.M.C. VIEW ON MOBILE RADIO
THE Association of Municipal Corporations are urging special consideration for local authorities if users of mobile radio sets have to alter their frequencies. The Association-point out that local authorities might be involved in great expense in buying apparatus for new frequencies, and have told the Postmaster-General: "As most of the larger transport undertakings make extensive use of radio communications, special consideration should be given to them. They should not he treated in the same way as ordinary commercial users of vans and taxis.
OXFORD—MINISTER'S INTEREST
THE Minister of Housing and Local Government is taking a personal interest in traffic-congestion problems in Oxford, where a proposal to. ban loading and unloading of goods vehicles in main streets for four hours each day has twice been postponed. From October t3-15 he will visit the city with a view to studying the situation at first hand.
REVIEW OF VEHICLE SIGNALS
PA.A CALL for a review of vehicle signals, including direction indicators and .brake lights, is to be discussed at the National Safety Congress at Morecambe from October 11-13. There will also be a proposal that new applicants for driving licences should produce proof of physical fitness, and that periodic health checks be taken.
RANGERS FOR DESERT
OPERATORS of a number of A.E.C. Regal Mark III vehicles between Cairo and Aleiandria, the Societd des Autobus des Routes du Desert. have taken delivery of 100 A.E C. Ranger chassis. These vehicles, which will be used mainly in the Nile Delta area, have an 18-ft. wheelbase and will be fitted with locally made bodies.