Low Rates Tip Scales for New Applicant : B.R.S. Overruled
23rd September 1955
Page 45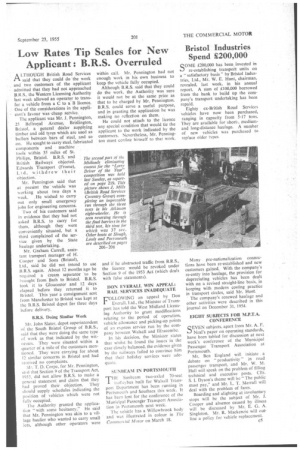 Page 45, 23rd September 1955 —
Low Rates Tip Scales for New Applicant : B.R.S. Overruled
Close
A LTHOUGH British Road Services 1-1. said that they could do the work and two customers of the applicant admitted that they had not approached B.R.S., the Western Licensing Authority last week allowed an operator to transfer a vehicle from a C to a B licence. One of the considerations in the applicant's favour was ,cheap service.
The applicant was Mr. J. Pennington, 25 Bellfoyal Avenue, BriSlington, Bristol, a general dialer supplying timber and old tyres which are used as buffers between -bars of steel, and so on. He sought to carry steel, fabricated components and machine tools within 35 miles of St.
Bristol. " and British Railways objected. Edwards Transport (Frome), Ltd., withdrew their objection: Mr. Pennington said that at present the vehicle was NS larking about two. days a week. . He wished to carry out only small emergency jobs for engineering concerns, Two of his customers said
in evidence that they had not asked B.R.S. to carry for them, although. they were conveniently situated, but a third complained of the service given by the State haulage undertaking.
Mr. Graham. Currell, assis tant transport Manager of H. Cooper and Sons (Bristol), Ltd., said he did not intend to use B.R.S. again. About 12 months ago-he required a cream separator to be Nought from Bath to Bristol. B.R.S. took it to Gloucester and 12 days elapsed before they returned it to Bristol. This year a consignment sent from Manchester to Bristol was kept at the B.R.S. Bristol depot for three days before delivery.
(I.R.S. Doing Similar Work Mr. John Slater, depot superintendent of the South Bristol Group of B.R.S., said that they were doing the same type of work as that indicated by the witnesses. They were situated within a quarter of a mile of the customers mentioned. They were carrying for about 12 similar concerns in Bristol and had received no complaints.
M. T. D. Corpe, for Mr. Pennington, sad that Section 9 of the Transport Act, 1953, did not allow B.R.S. to make a general statement and claim that they had proved their objection. They should supply schedules indicating the position of vehicles which were not fully occupied.
The Authority granted the application "with some hesitancy." He said that Mr. Pennington was akin to a village haulier who wanted to carry small lots, although other operator's were within call. Mr. Pennington had not enough work in his own business to keep the vehicle fully occupied.
Although B.R.S. said that they could do the work, the Authority was sure it would not be at the same price as that to be charged by Mr. Pennington. B.R.S. could serve a useful purpose, and in granting the application he was making no reflection on them.
He could not attach to the licence any special condition that would tie the applicant to the work indicated by the customers. Nevertheless, Mr. Pennington must confine himself to that work.
and if he abstracted traffic from B.R.S., the licence would be revoked under Section 9 of the 1953 Act (which deals with false statements).
DON EVERALL WIN APPEAL: RAIL SERVICES INADEQUATE
FOLLOWING an appeal by Don Everall, Ltd., the Minister of Transport has told the West Midland Licensing Authority to grant modifications relating to the period of operation, vehicle allowance and picking-up points of an express service run by the company between Walsall and Ilfracombe.
In his decision, the Minister states that whilst he found the issues in the case closely balanced, the evidence given by the railways failed to convince him that their holiday services were adequate.
SUNBEAM IN PORTSMOUTH
THE Sunbeam two-axled 70-seat
trolle.ybus built for Walsall Transport Department has been running in Portsmouth and Southsea this week. It has been lent for the conference of the Municipal Passenger Transport Association in Portsmouth next week.
The vehicle has a Willowbrook body and was illustrated in colour in The Commercial Motor on March 18.
Bristol. Industries Spend E200,00b
SOME E200,000 has been invested in re-establishing transport units on a "satisfactory basis" by Bristol Industries, Ltd., Mr. W. E. Hunt, chairman, revealed, last week, in his annual report. A sum of 4100,000 borrowed from the bank to build up the company's transport undertaking has been repaid.
Eighty ex-British Road Services vehicles have now been purchased, ranging in capacity from 5-17 tons. They are available for short-, mediumand long-distance haulage. A number of new vehicles was purchased to replace older types, Many pre-nationalization connections have been re-established and new customers gained. With the company's re-entry into haulage, the provision for depreciating vehicles has been dealt with on a revised straight-line basis, in keeping with modern costing practice in transport circles, said Mr. Hunt.
The company's renewed haulage and other activities were describedin this journal on December 31, 1954.
EIGHT SUBJECTS FOR M.P.T.A. CONFERENCE
QEVEN subjects, apart from Mr. A. F. t.--) Neal's paper on operating standards, have been tabled for discussion at next week's conference of the Municipal Passenger Transport Association at Portsmouth.
Mr. Ben England will initiate , a debate on " productivity " in road passenger transport, and Mr. W. M. Hall will speak on the problem of filling technical and executive posts. alt. S. I. Dyson's theme will be "The public must pay," and Mr. L. T. Merrall will deal with the problem of fares.
Boarding and alighting at involuntary stops will be the subject of Mr. J. Cooper and absence caused by illness will be discussed by Mr. E. G. A. Singleton, Mr, R. Mackenzie will outline a policy for vehicle replacement.