Sir J. Elliot Still L.T.E. Chairman
23rd September 1955
Page 44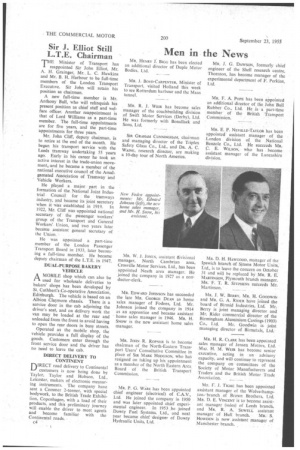 Page 44, 23rd September 1955 —
Sir J. Elliot Still L.T.E. Chairman
Close
THE Minister of Transport has reappointed Sir John Elliot, Mr. A. H. Grainger, Mr.. L. C. Hawkins and Mr. B. H. Harbour to be full-time members of the London Transport Executive. Sir John will retain his position as chairman.
A new full-time member is Mr. Anthony Bull, who will relinquish his present position as chief staff and welfare officer. Another reappointment is that of Lord Williams as a part-time member. The full-time appointments are for five years, and the part-time appointments for three years.
Mr. John Cliff, deputy chairman, is to retire at the end of the month. He began his transport service with the Leeds tramway undertaking 55 years ago. Early in his career he took an active interest in the trade-union movement, and he became a member of the national executive council of the Amalgamated Association of Tramway and Vehicle Workers.
He played a major part in the formation of the National Joint Industrial Council for the tramways industry, and became its joint secretary when it was established in 1919. In 1922, Mr. Cliff was appointed national secretary of ' the passenger workers' group of the Transport and General Workers' Union, and two years later becarrie assistant general secretary of the Union.:.
He was appointed a part-time member of the London Passenger Transport Board in 1933, later becoming a full-time member. He became deputy chairman of the L.T.E. in 1947.
DUAL-PURPOSE BAKERY VEHICLE
AMOBILE shop which can also be used for wholesale deliveries to bakers' shops has been developed by St. Cuthbert's Co-operative Association, Edinburgh. The vehicle is based on an Albion Claymore chassis. There is a service door in the cab adjoining the driver's seat, and on delivery work the van may be loaded at the rear and unloaded from the front to avoid having to open the rear doors in busy streets.
Operated as the mobile shop, the vehicle provides a full display of the goods. Customers enter through the front service door and the driver has no need to leave the cab.
DIRECT DELIVERY TO CONTINENT
nIRECT road delivery to Continental
customers is now being done by Taylor, Taylor and Hobson, Ltd., Leicester, makers of electronic measuring instruments. The company have sent a Comrner 2-tonner, with special bodywork, to the British Trade Exhibition, Copenhagen, with a load of their products, and this preliminary journey will enable the driver to meet agents and become familiar with the Continental roads.