Further Delay on Liners —and Roadrailers?
23rd October 1964
Page 25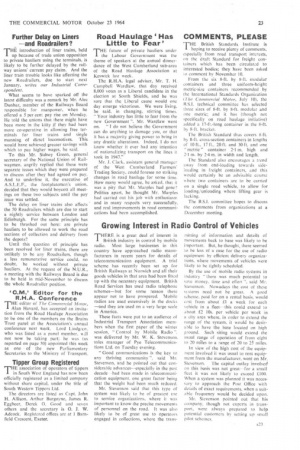 Page 25, 23rd October 1964 —
Further Delay on Liners —and Roadrailers?
Close
71-1-E introduction of liner trains, held I up because of trade union opposition to private hauliers using the terminals, is likely to be further delayed by the railway unions' current pay claim. And the liner train trouble looks like affecting the new Roadrailers, due to start next January, writes our Industrial Correspondent.
What seems to have sparked off the latest difficulty was a remark by Mr. Alec Dunbar, member of the Railways Board responsible for manpower, when he offered a 5 per cent pay rise on Monday, He told the unions that there might have been more in the kitty if they had been more co-operative in allowing free terminals for liner trains and single manning of diesel locomotives, This would have achieved greater savings with which to pay higher wages, he said.
To this Mr. Sidney Green, general secretary of the National Union of Railwaymen, angrily replied that these were separate issues which they were prepared to discuss after they had agreed on pay. And to underline it, the executive of A.S.L.E.F., the footplatemen's union, decided that they would boycott all meetings on these two subjects until the pay issue was settled.
The delay on liner trains also affects the 50 Roadrailers which are due to start a nightly service between London and Edinburgh. For the same principle has to be thrashed out here: are private hauliers to be allowed to work the road sections of collection and delivery from the depots?
Until this question of principle has been resolved for liner trains, there are unlikely to be any Roadrailers, though a less remunerative service could, no doubt, be worked without private hauliers. At the request of the N.U.R., a meeting with the Railways Board is due to be held in mid-November to discuss the whole Roadrailer position.
'CAL' Editor for the R.H.A. Conference
171-1E editor of The Commercial Motor, 1 Alan Havard, has accepted an invitation from the Road Haulage Association to be one of the members on the Brains Trust panel at the Association's annual conference next Week. Lord Lindgren, who was listed as a panel member, VS. in not now be taking part: he was las reported on page 30) appointed this week as one of the new Parliamentary Secretaries to the Ministry of Transport.
Tipper Group Registered
'T'HE association of operators of tippers I in South West England has now been officially registered as a limited company without share capital, under the title of South Western Tippers Ltd.
The directors are listed as Capt. John H. Allison, Arthur Burgoyne, James R. Eggbeer. Derek 0. Good and seven others and the secretary is 0. J. W. Adcock, Registered offices arc at 1 Barnfield Crescent, Exeter.