In a Line or. Two
23rd May 1952
Page 38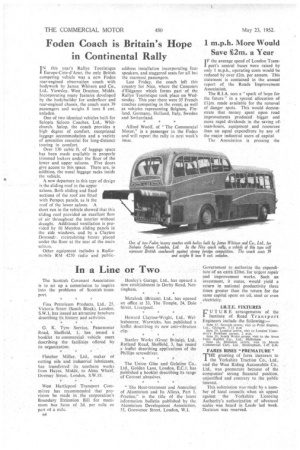 Page 38, 23rd May 1952 —
In a Line or. Two
Close
The Scottish Covenant Association is to set up a commission to inquire into the problems of Scottish transport.
Fina Petroleum Products, Ltd., 25, Victoria Street (South Block), London, S.W.I, has issued an attractive brochure describing its history, and activities.
G. K. Tyre Service, Paternoster Road, Sheffield, 1, has issued a booklet to commercial vehicle users describing the facilities offered by its organization.
Fletcher Miller, Ltd., maker of cutting oils and industrial lubricants, has transferred its southern works from Hayes, Middx, to Alma Wharf, Dormay Street. London, S.W.13.
West Hartlepool Transport COMmittee has recommended that provision be made in the corporation's Boundary Bxtension Bili for maximum bus fares of 2d. per mile or part of a mile.
a4 Hooley's Garage, Ltd., has opened a new establishment in Derby Road, Nottingham.
Metalock (Britain), Ltd., has opened an office at 33, The :rem*, 24, Dale Street, Liverpool.
Howard Clayton-Wright, Ltd., Wellesbolune, Warwicks, has published a leaflet describing its new anti-vibration clip.
Stanley Works (Great Britain), Ltd., Rutland Road, Sheffield, 3, has issued a leaflet describing applications of the Phillips screwdriver.
The Union Glue and Gelatine Co., Ltd., Golden Lane, London, E.C.1; has published a booklet describing its range of Coronet abrasives.
" The Heat-treatment and Annealing of Aluminium and Its Alloys, Part Practice," is the title Of the latest information bulletin published by the Aluminium Development Association, 33, Grosvenor Street, London, W.1. Government to authorize the expenditiire of an extra L20m for urgent repair and improvement works. Such an investment, it states, would yield a return in national productivity three times greater than the return for the same capital spent on oil, steel or even electricity.
UTURE arrangements of -the June 19, London centre, visit to Londori Institute of Road Tr an sp o-r-t Engineers include the following:—
I.R.T.E. FIXTURES
June 12,kottish centre; visit to :Pow Engines, Lid., Glasgow, 7.15 p.m
ports Peckham garage, 2 p.m. .
Jun th Jung 20, South Wales group, visit to e Avon Wm. Rubber' Co., Ltd_ .Melksham.
June 24, Midlands centre, visit to Molds Commercial Cars, Ltd., Birmingham. 1.45 p.m.
FARES RISES " PREMATURE " 'THE granting of fares increases to 1 thC Yorkshire Traction Co., Ltd., and the West Riding Automobile Cc., Ltd., was premature because of the companies' strong financial position, unjustified and contrary to the public This submission was made by a number of local councils when an appeal against the Yorkshire Licensing Authority's authorization of advanced scales was heard in Leeds Iasi week. Decision was reserved.